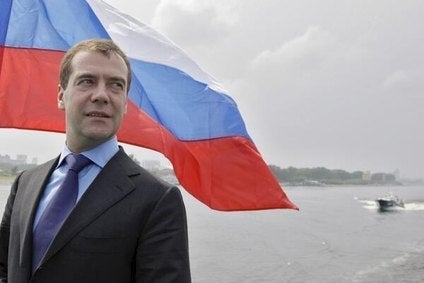 Russia has issued the list outlining which foodstuffs it has banned from entering the country – with products from the US, the EU, Australia, Canada and Norway affected.
Fish, fruit, vegetables, meat, milk and dairy imports from the countries have all been hit as Moscow retaliates after a fresh wave of sanctions were imposed on Russia last week.
The ban is effective immediately and will last one year, Russian Prime Minister Dmity Medvedev said.
"Russia has completely banned the importation of beef, pork, fruits and vegetables, poultry, fish, cheese, milk and dairy products from the European Union, the United States, Australia, Canada and the Kingdom of Norway," Medvedev confirmed.
"For a long time, Russia has not responded to the so-called sanctions declared against it by certain countries. Until the last moment, we hoped that our foreign colleagues would realise that sanctions lead to a blind alley, and that no one benefits from them. But they didn't realise this, and now we have been forced to respond."
Russian President Vladimir Putin yesterday issued a decree setting out the ban on food imports. The order said the ban was a result of the sanctions imposed by the West, which stepped up sanctions after the downing of the Malaysian Airlines flight MH17 in eastern Ukraine. The plane is alleged to have been shot down by pro-Russia rebels, who the West claims have been supported by Moscow.
Medvedev said Russia had been "forced" to enact the bans but said Moscow would be willing to end the restrictions if there was "a constructive approach" from the West. "If our partners display a constructive approach towards co-operation issues, then the Government would be willing to revise the specific implementation deadlines for these measures," he insisted.
Medvedev said the Russian government would work the country's food and retail sectors to "compensate for product shortfalls and prevent price hikes". He said Russian food producers stood to benefit from the import bans.
"While touring the country and meeting with farmers, we have repeatedly heard complaints that Russian retail chains and shops do not allow the sale of Russian foodstuffs. You have also heard and seen this many times. The retaliatory measures that we are introducing will essentially open up shop shelves for domestic producers. Of course, Russian farmers will have to accomplish a lot and work hard, but this opportunity to launch and expand import-substituting production facilities should not be missed," Medvedev said.
In recent weeks, Rosselkhoznador, the country's federal veterinary and phytosanitary control agency has banned canned food lines and dairy products from Ukraine. It also hit fruit and veg imports from Poland. However, Rosselkhoznador has claimed the bans were due to the products being sub-standard and denied the decisions were politically motivated.
Yesterday (6 August), Rosselkhoznador suggested microorganisms had been detected on poultry shipments from US processors Tyson Foods and Sanderson Farms.