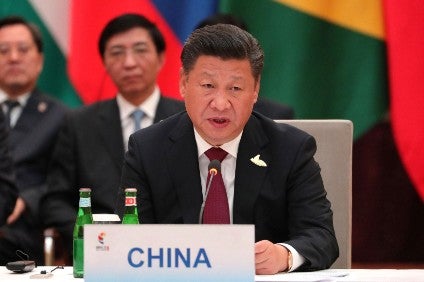 Beijing has responded swiftly to the announcement the US will be imposing 10% tariffs on food exports from China from 24 September.
On the same day, the Chinese government is to impose retaliatory tariffs – some higher than the US rates – at 25% on a wide range of food products, including certain chicken, beef and lamb lines; frozen peas; a wide range of edible oils; mustard; sugar; milk powder; stuffed pasta and jams.
There is also a smaller list of products upon which China will impose 20% duties on the same day on foods such as unshelled peanuts, sausages, chocolates, chewing gum, sugar confectionery, honey and cherries.
The US exported US$67m of sugars, syrups, artificial honey and caramel to China in 2017. Milk powder is another important US food export to China – with another $67m of product (with fat content not exceeding 1.5%) being sold last year and $26m of milk powder with 1.5% plus fat content.
Soybean oil – also attracting new duties (of 25%) – generated $23m of export sales in China for US producers in 2017.
And US exporters of chocolate and other cocoa products earned $25m from sales to China.
Earlier today, the US upped the ante in its trade war with China by finalising the list of imported products, worth an estimated US$200bn, to be hit by tariffs.
The list, formalising a threat made by the US back in July, includes many food items.
The US claims the newly-announced tariffs – of 10% from 24 September, rising to 25% on 1 January next year – are a response to China's "unfair trade practices".
In language guaranteed to elicit a response from Beijing, the US talked of China's "theft of American intellectual property and forced transfer of American technology".