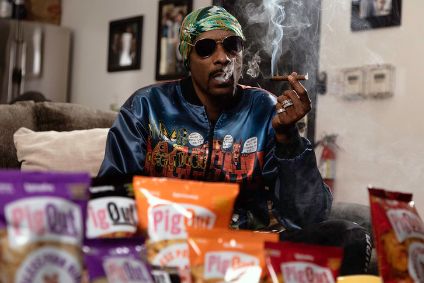 Outstanding Foods, the US-based plant-based, alternative-meat business, has attracted investment from rapper Snoop Dogg.
The firm set up by former Hampton Creek co-founder and Beyond Meat product developer Dave Anderson has revealed the rapper has invested an unknown sum into its portfolio of products and specifically its new PigOut's Pigless Pork Rinds range.
The new rinds are baked, rather than fried, and are available in four flavours, Original, Nacho Cheese, Hella Hot, and Texas BBQ. They are made from ingredients including mushrooms.
Each 3.5 ounce bag contains 25 grams of plant-based protein and the product is free from gluten, soy, GMOs, cholesterol and trans fats. They are also certified vegan and kosher.
Snoop Dogg has established a PigOut website and 10% of the sales generated there will be donated to his charity Snoop Special Stars.
He said: "I'm excited to partner with the Outstanding Foods team. They got some great snacks coming out, including the PigOut munchies. Wait until you see what else we got up our sleeves, ya dig?"
Bill Glaser, co-founder and CEO of Outstanding Foods, said: "To have Snoop aligned with Outstanding Foods is not only checking off an item on my bucket list, but it's also exposing Snoop's millions of fans to our tasty as hell, protein-packed products."
In June last year, Katjesgreenfood, the venture fund of German confectionery group Katjes, invested in the business, then known as PigOut.