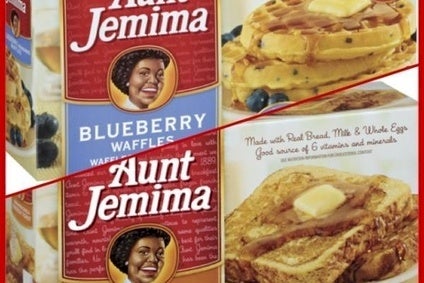 PepsiCo has insisted a lawsuit over the Aunt Jemima brand seeking US$2bn in royalties is "without merit".
The great-grandson of the woman claimed to be behind the Aunt Jemima image and recipes has filed a class action lawsuit against brand owner PepsiCo, as well as Pinnacle Foods, which makes products under the brand through licencing deals.
Hillshire Brands, which recently walked away from an attempt to buy Pinnacle, is also reportedly subject to the lawsuit.
According to reports, in the suit, D.W. Hunter claims the now PepsiCo unit Quaker Oats failed to pay his great-grandmother, Anna Short Harrington, and her descendants an "equitable fair share of royalties" from the brand that used her likeness.
Reports say the suit also claims Quaker Oats employed Harrington to assume the pre-existing Aunt Jemima role in 1935. It asserts the company manufactured her pancake recipe.
Furthermore, Hunter reportedly claims his great-grandmother had struck a "written contractual agreement to play the actress role of Aunt Jemima" that entitled her to royalties generated by the brand. He also claims the companies denied Harrington had worked for Quaker.
PepsiCo said it could not discuss the details of the "pending litigation" but added: "We do not believe there is any merit to this lawsuit. People associate The Aunt Jemima Brand with warmth, hospitality and comfort, and we stand by this heritage, as well as the ways in which we do business."
When contacted by just-food, Pinnacle said: "Our policy is not to comment on threatened or pending litigation."