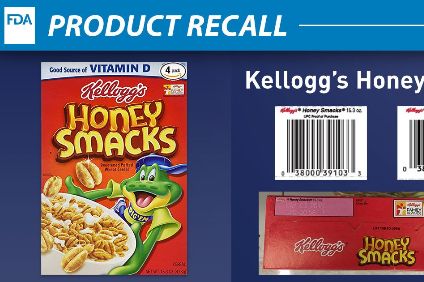 The US Food and Drug Administration (FDA) and the Centers for Disease Control (CDC) have advised consumers to throw out all Kellogg's Honey Smacks from their store cupboards – regardless of size and date – following the cereal being linked to a salmonella outbreak.
More than 70 people are said to have contracted salmonella poisoning from the popular breakfast cereal.
On its website, CDC is recommending people do not eat Honey Smacks.
"Check your home for it and throw it away, or return it to the place of purchase for a refund," it said.
"Even if some of the cereal has been eaten and no one got sick, throw the rest of it away or return it for a refund.
"If you store cereal in a container without the packaging and don't remember the brand or type, throw it away.
"Thoroughly wash the container with warm, soapy water before using it again to remove harmful germs that could contaminate other food."
It further advised retailers should not sell or serve recalled Honey Smacks cereal.
Kellogg recalled an estimated 1.3m cases of Honey Smacks on 14 June but the FDA said in its update the company's voluntary recall did not cover all of the potentially contaminated cereal.
Out of the 70 plus victims of salmonella poisoning across 31 US states, 24 of these have been hospitalised so far. No deaths have been reported.
Kellogg has reportedly launched an investigation with the third-party manufacturer that produces the cereal to learn more about how the product came into contact with the bacteria.
No other Kellogg products have been impacted by the recall.