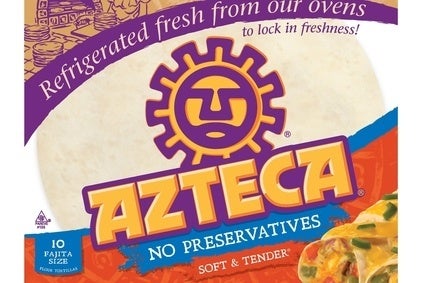 US refrigerated tortilla manufacturer Azteca Foods has launched a range of products to target consumers looking for healthier products.
The "healthier for you" assortment comprises four new preservative-free flour options of fajita, taco and burrito. It has also developed "mini-snack sizes". The full range is free-from artificial colours and flavours and high-fructose corn syrup.
"Our No Preservative tortillas are an exciting addition to our entire new platform of healthier for you products," said Azteca VP marketing and innovation Julie Nargang. "This paired with only the finest and freshest ingredients deliver the healthier benefits, without compromising the authenticity and delicious taste our customers have come to expect and demand from our brand."
The range also includes tortillas with added calcium and vitamin D, as well as organic and "low-carb" options.
The No Preservative tortilla line will be available at select grocery retailers nationwide for a suggested retail price of US$1.99-$3.79.