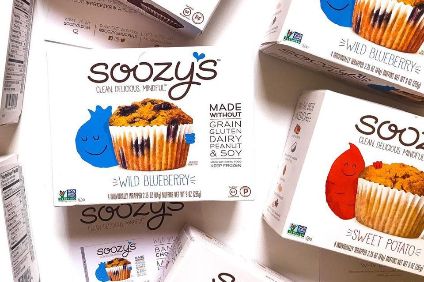 Soozy's, a US start-up making gluten-free baked goods, has received seed funding from investors including US investment vehicles AccelFoods and BIGR Ventures.
The fledgling Soozy's, set up in New York at the end of last year, has attracted US$2.5m of capital from backers that feature AccelFoods, which targets "high-growth" food companies with "unique products and go-to-market strategies" and BIGR Ventures, a fund looking to support natural and organic companies in the early stages of doing business.
Soozy's was set up by Susan Chen and Mason Sexton, who believed existing gluten-free baked goods often have "unappealing taste and weak nutritional profiles", the company said.
Since the launch of the business last autumn, Chen and Sexton have secured listings in 500 stores across Texas, the northeast of the US and in Mid-Atlantic states, at retailers including H-E-B and Wegmans.
"We founded Soozy's on the belief that consumers shouldn't have to sacrifice delicious-tasting treats when leading a healthy grain-free, gluten-free lifestyle," said Chen, who added the entrepreneurs want to grow "not just as a 'better-for-you' brand, but a truly 'best-for-you' baked goods company".
BIGR Ventures was set up by natural foods broker Bill Weiland and two former Boulder Brands executives Carole Buyers and Duane Primozich.
Buyers said: "Nearly a decade ago, I had a front-row seat to the emergence of the gluten-free category and led the acquisitions of the number one and number two brands in the market at that time. We see the opportunity in grain-free today as very similar to gluten-free 10 years ago. Soozy's is exceptionally well-positioned to capitalise on this emerging market."
Jordan Gaspar, one of the founders at AccelFoods, added her fund has "strong confidence in [Soozy's] ability to execute on-shelf".