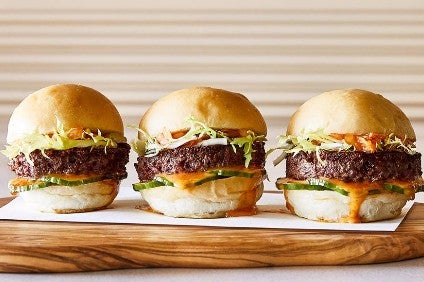 Impossible Foods, the US plant-based food manufacturer, has created extra capacity for its signature Impossible Burger by signing a co-manufacturing deal with OSI Group.
Chicago-based OSI is the holding company of meat processors that service the retail and foodservice industries.
California-based Impossible Foods said it is struggling to cope with demand for the meat-free burger and that it has double the headcount in its plant in the last two months.
It said demand has come form all sales categories – individual restaurants, college campuses, corporate canteens, theme parks and large customers such as Burger King, White Castle and Qdoba.
Now it has turned to OSI Group for help. OSI has more than 65 facilities in 17 countries.
It will begin producing the Impossible Burger starting next month, adding short-term capacity to Impossible Foods' 68,000 sq ft plant in Oakland, California. It will then continue to expand production of the burger throughout 2019 and thereafter.
Sheetal Shah, senior vice president of product and operations at Impossible Foods, said: "We conducted an exhaustive due diligence process to determine how to scale our manufacturing, both in the short term and over the next several years, and we were thoroughly impressed with OSI's commitment to quality and responsiveness.
"OSI has already installed equipment to make the Impossible Burger, and we'll start seeing new capacity every week."
Kevin Scott, senior executive vice president at OSI North America, said: "We look forward to lending our expertise to Impossible Foods as it embarks on one of the most ambitious start-ups in the food industry.
"At the same time, Impossible Foods will help fulfil the OSI Group's commitment to sustainable food production – one of the core prisms through which OSI management makes operational decisions."
In April, the world's second largest burger chain, Burger King, debuted the Impossible Whopper in a regional test in St. Louis and now intends to bring the Impossible Whopper to all of its 7,200 US restaurants.
Impossible Foods was founded in 2011 by Stanford biochemistry professor and former pediatrician Dr. Patrick Brown.
In April OSI Group revealed that it had acquired local peer Rose Packing Co. for an undisclosed sum.