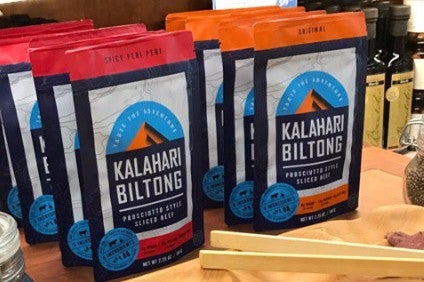 US meat snacks group Kalahari Biltong has closed on a round of equity financing.
The investment – of an undisclosed amount – was led by AccelFoods, a New York-based venture fund, in which Danone owns a stake.
The round of funding will be used to launch the brand at retail, expand manufacturing, roll out a field marketing programme, and launch more flavours.
Kalahari Biltong was set up by three men – Tyler Noyes, Brett Johnston and Robin Ginsburg.
"Our category is experiencing tremendous growth with no sign of slowing down, yet no one is truly innovating. We are proud to bring the only authentic, US-produced biltong to consumers and usher in a new standard of quality in the space," Noyes said.
"Our partnership with AccelFoods allows us to join forces with a team that has the expertise and resources to help us scale nationally and quickly."
AccelFoods' partner, Frank Zampardi, said: "Kalahari represents true innovation that will change the meat snacks category with its exceptional taste and nutritional profile."
Zampardi, who joined AccelFoods in March, is a former head of sales for Krave Jerky, the US business acquired by Hershey in 2015. In conjunction with this round of financing, Zampardi has joined Kalahari's board of directors.