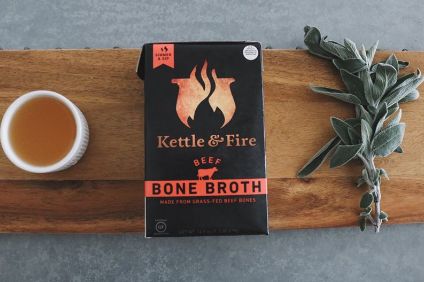 Kettle & Fire, a US supplier of shelf-stable bone broths, has raised US$8m in investment, with CAVU Ventures leading the round.
Texas-based Kettle & Fire sells its products through retailers including Whole Foods Market, Wegmans and Sprouts Farmers Markets.
The company, which also sells directly to consumers, said the investment would "fuel multichannel growth" and support product development as it expands into bone-broth soups.
Formed in 2016, Kettle & Fire said it is set to "triple revenue this year", without providing figures.
Nick Mares, who set up Kettle & Fire with his brother Justin, said the team at CAVU were "CPG experts, founders and operators who have grown food and beverage companies into iconic global brands".
Clayton Christopher, the co-founder and managing partner of CAVU, said: "Kettle & Fire is exactly the type of brand partner we seek. Consumers appreciate the superiority of their products in terms of taste, convenience and nutritional punch relative to other soups and broths currently available on the market. Justin and Nick are reinventing not just the bone-broth category, but also the entire soup category through their robust innovation pipeline."