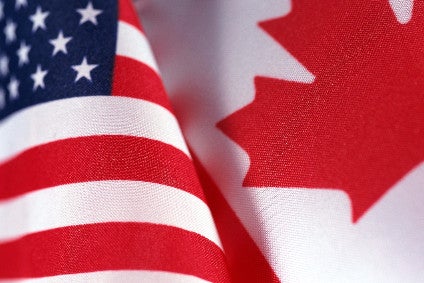 The US and Canada have signed an agreement to say their food safety systems are comparable.
The new Food Safety Systems Recognition Arrangement was signed yesterday (6 May) between the US Food and Drug Administration, the Canadian Food Inspection Agency and the Department of Health Canada. It agrees both countries recognise each other's food safety systems as providing similar levels of consumer protection.
The agreement allows the two countries to leverage each other's existing science-based regulatory systems, reduce unnecessary duplication, enhance information sharing, and leverage resources so that the agencies can better meet their public health objectives.
It lays down a framework for regulatory cooperation between the countries for everything regarding food safety from training, inspection and audits to what to do in the event of an outbreak.
A statement from the FDA said the systems recognition allows for "more efficient and effective use of resources; collaboration on risk-informed decision-making about activities that may be carried out in each country; and enhanced regulatory cooperation, improved coordination and greater reliance on the other country's participant(s) for follow-up and coordination when a food safety concern arises. It may also result in reductions in the type and frequency of verification activities".
The deal is the second such agreement for the US, the first being signed with New Zealand in 2012.