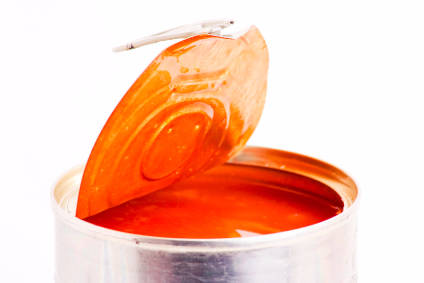 The US canned food industry has called on the Trump administration to exclude tinplate steel from any potential trade tariffs or import restrictions to avoid "potential increases in manufacturing cost" and job losses.
A letter signed yesterday (12 June) by nearly 20 companies and groups from across the industry, including Seneca Foods, Del Monte, Bush's and Crown Holdings, called on the federal government to exempt tinplate steel from any proposed restrictions "because it is not used in any defence or national security applications".
The move follows last April's signing of a presidential memorandum by President Donald Trump that triggered an investigation by Secretary of Commerce Wilbur Ross into the effects of steel imports on the US. The White House said the investigation would report back within 270 days – and the President could impose tariffs on steel imports if the probe concluded steel imports "threaten to impair national security".
According to the letter, tinplate steel represents "about 2% of all steel used for can making and is already recognised by the US Department of Commerce and the International Trade Commission as a separate category".
The letter said US tinplate steel production meeets "58% of domestic demand", noting that in 2016, US demand was 2.1m tons, while domestic tinplate production was only 1.2m tons.
The letter claimed any tariff or restriction on tinplate steel "would competitively disadvantage cans compared to other forms of packaging, which are not subject to tariffs". "Even a small increase in the price of raw materials would create further price pressures on both can makers and food manufacturers in an already challenging economic environment", the letter said.
"Canned food provide access to affordable nutrition for the 42m Americans that live in food insecure households, including 13 million children," the letter added. "Those on government food assistance, including the US Department of Agriculture Supplemental Nutrition Assistance Program (Snap – formerly known as food stamps), consume canned fruits and vegetables at an even higher rate than the average American, in part because canned food costs 20% less than fresh food. Tariffs or any trade barriers would have harsh consequences on SNAP recipients and would diminish the value of taxpayer-funded federal food assistance programmes."