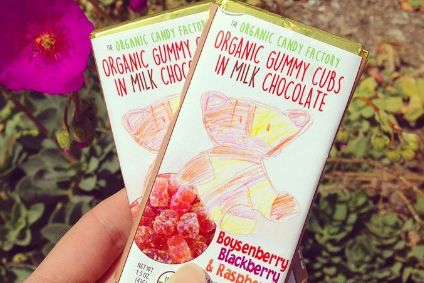 Vertical Wellness, a US firm specialising in health and wellness products based on cannabinoids, has acquired local better-for-you confectionery business The Organic Candy Factory for an undisclosed sum.
Kentucky-based Vertical Wellness said it plans to combine its "knowledge and reach in chain, distribution, and growth strategies with The Organic Candy Factory's intimate knowledge of the better-for-you candy segment".
California's The Organic Candy Factory is the brainchild of Piper Cochrane and her young daughter Ginger. It produces confectionery without using gelatine, gluten, preservatives, corn syrup or artificial flavours, colours or sweeteners.
The Organic Candy Factory's products, including what it claims is the world's first vegan, kosher gummy bear, are sold in coffee shops, juice bars and via Amazon and, from January, Macy's online store. It is also hoping to secure a distribution deal with grocery chain Sprouts Farmers Market.
Vertical Wellness, which describes itself as a "leader in the branded hemp cannabinoid health and wellness space" is hoping to tap into the established link between CBD and gummy products.
Its CEO Smoke Wallin said: "Piper and her daughter Ginger have done a remarkable job building a truly unique brand in the better-for-you candy market over the last ten years.
"This segment is large and outpacing the traditional confectionery/snack market significantly. We also know the top form factor in the CBD market has been gummies. Having an established brand that is 100% organic and is the best tasting product on the market is the perfect segue for us to expand into that space as ingestibles go mainstream."
Piper Cochrane, CEO of The Organic Candy Factory, said: "My dream is to build Organic Candy Factory into the leading brand of better-for-you candies. Vertical Wellness has the right team and scalable platform to achieve this."
Following the deal, Sandy Climan, founder and CEO of Entertainment Media Ventures and an investor in both Vertical and The Organic Candy Factory, who will join the Vertical Wellness advisory board.