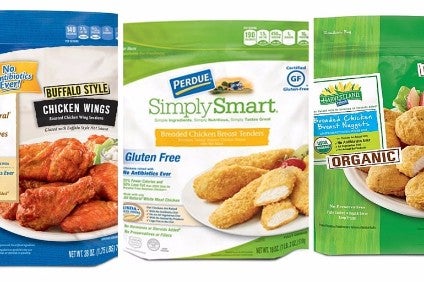 Perdue Farms, the US processor of chicken, turkey and pork, has created a new arm, Premium Meat Company, to take advantage of the company's growth in "premium branded" products.
Salisbury, Maryland-based Perdue Farms, which can trace its roots back to 1920, is currently the parent of two divisions: branded food business Perdue Foods and Perdue AgriBusiness.
A spokesman for Perdue Farms indicated no new investment will be put into additional production facilities for the new operation, pointing to CEO Randy Day's statement which suggested a re-alignment of resources.
Day said: "This move aligns the resources from production through sales to further our growth in premium, no-antibiotics-ever, all-vegetarian-fed products from animals raised to higher standards across the full range of proteins."
Day said the company is building on "continued growth in premium, branded products across its pork, lamb, beef and pet treat businesses".
Mark McKay has been named as president of the new division. He is a 30-year veteran of the poultry and meat industries, having joined Perdue in 2011 as part of the company's acquisition of Coleman Natural Foods.
Prior to his promotion, McKay served as executive vice president of speciality proteins and business development.
McKay also oversees the brands and operations acquired through Perdue's 2015 purchase of Natural Food Holdings, including the Niman Ranch and Siouxpreme brands.