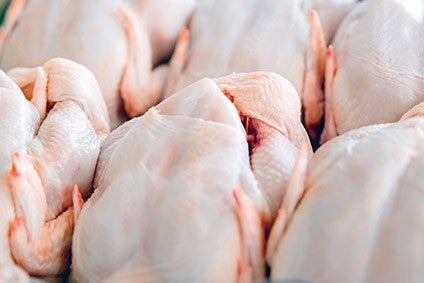 US chicken giants, including Tyson Foods, Pilgrim's Pride and Sanderson Farms, have been accused of price-fixing in a new legal claim filed in Chicago.
Food business Bob Evans Farms, a subsidiary of Post Holdings, as well as retailers Fresh Market and Wawa, alleged in filings deposited with the District Court for Northern Illinois on Friday (4 September) the processors have inflated prices for more than a decade.
They allege the companies curtailed supplies to boost their profits and are seeking damages for chicken purchased from as early as 2008 to at least late 2017.
The lawsuits, which also implicated Koch Foods, Perdue Farms and Wayne Farms, alleged producers inflated costs through methods including coordinating bids to buyers and restricting the supply of birds for sale.
""Historically, the chicken industry was marked by boom and bust cycles," the filing read, as reported by Bloomberg. "By their wrongful conduct as alleged in this complaint, defendants not only materially reduced or eliminated the historical boom and bust cycle of the chicken industry, they propped up chicken prices during periods of rapidly falling input costs."
In an unrelated case, Pilgrim's Pride CEO Jayson Penn is on leave and awaiting trial after a grand jury indicted him on price-fixing charges in June.
just-food has asked all of the companies implicated in the new lawsuit for a response.