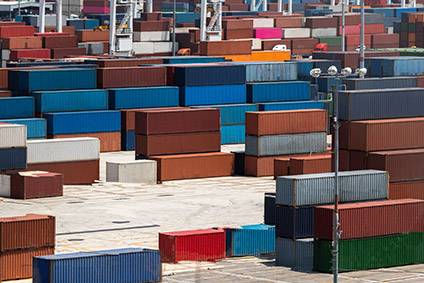 President Trump has announced a "phase one deal" on trade with China after the latest round of talks between Washington and Beijing.
As part of the tentative agreement – a formal deal has yet to be put down on paper – the US has decided not to raise tariffs on US$200bn of Chinese imports from 25% to 30% tomorrow (15 October).
"We've come to a very substantial phase one deal," Trump told reporters in the White House after meeting on Friday with China Vice Premier Liu He.
"We have come to a deal, pretty much, subject to getting it written. It'll take probably three weeks, four weeks, or five weeks – but we've come to a deal on intellectual property, financial services."
The US President described what had been outlined so far as "a tremendous deal" for US farmers. "A purchase of — from $40-50bn worth of agricultural products," he said. "To show you how big that is, that would be two and a half, three times what China had purchased at its highest point thus far."
My deal with China is that they will IMMEDIATELY start buying very large quantities of our Agricultural Product, not wait until the deal is signed over the next 3 or 4 weeks. THEY HAVE ALREADY STARTED! Likewise financial services and other deal aspects, start preparing….

— Donald J. Trump (@realDonaldTrump) October 13, 2019
….I agreed not to increase Tariffs from 25% to 30% on October 15th. They will remain at 25%. The relationship with China is very good. We will finish out the large Phase One part of the deal, then head directly into Phase Two. The Phase One Deal can be finalized & signed soon!

— Donald J. Trump (@realDonaldTrump) October 13, 2019
CHINA HAS ALREADY BEGUN AGRICULTURAL PURCHASES FROM OUR GREAT PATRIOT FARMERS & RANCHERS!

— Donald J. Trump (@realDonaldTrump) October 13, 2019
Last month, the US announced it would delay the tariffs – which had been set to kick in on 1 October – to tomorrow, with Trump then describing that decision as a "gesture of good will".
Products on the so-called Tranche 3 list, had been subject to an additional 10% tariff as of 24 September last year and a further increase to 25% in May. The list, which included hundreds of food items covering areas such as meat, seafood and fresh produce, was set to see the levy rise to 30%.
The two sides are to hold further discussions.
Vice Premier Liu said: "We have made substantial progress in many fields. We are happy about it. We'll continue to make efforts."
Another tariff hike, planned for 15 December, remains under consideration, US Trade Representative Robert Lighthizer said. "The President has not made a final decision on that, but there's plenty of time to make that decision. And that is certainly a part of this process that the Chinese are working their way through," Lighthizer said.
"The first one has been suspended. The second one is subject to the President making a final decision. But, the way this timing works out, that will be well in advance of that date."
One US farmers group described Friday's announcement as "a break in the clouds" but said Washington and Beijing were still short of a full agreement.
"The promise of additional ag purchases is welcome news but details on timeline, price, commodities and many other questions will have to be answered," Brian Kuehl, co-executive director of Farmers for Free Trade, said. "Long-term, sustainable markets are what farmers actually need. From the very beginning of the trade war, farmers have been promised that their patience would be rewarded. To date, the deal they've been promised has not come. Today's news is a break in the clouds, but tariffs continue to cast a pall over the futures of farmers, ranchers and rural America. We hope both sides build on this progress to finally end the trade war."