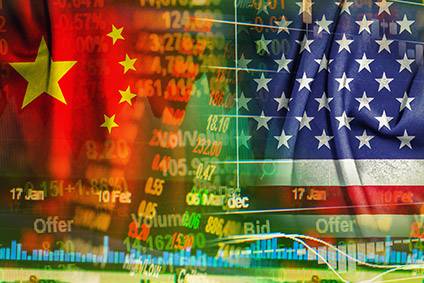 Donald Trump has cancelled a new set of US tariffs due to be imposed on Chinese imports after the two parties reached a preliminary trade deal on Friday (13 December) under so-called "phase one" talks that began in October.
As well has deciding not to levy new tariffs on Chinese goods due to go into effect yesterday – termed Section 301 amendments – the US is also pledging to reduce existing import taxes, and, in return, China has said it will purchase more US soybeans, poultry and other agricultural products.
The deal – due to be signed off early in January – between Washington and Beijing builds on a tentative agreement reached in October, whereby the US cancelled an increase in tariffs on US$200bn worth of Chinese goods due to rise from 25% to 30% on 15 October.
The Office of the US Trade Representative (USTR) said on Friday the deal requires "structural reforms and other changes to China's economic and trade regime in the areas of intellectual property, technology transfer, agriculture, financial services, and currency and foreign exchange".
In addition, "the agreement establishes a strong dispute resolution system that ensures prompt and effective implementation and enforcement", a statement from the Trade Representative office read.
US Trade Representative Robert Lighthizer said in the statement: "President Trump has focused on concluding a phase one agreement that achieves meaningful, fully-enforceable structural changes and begins rebalancing the US-China trade relationship".
And Steven Mnuchin, US treasury secretary, added: "Thanks to the President's leadership, this landmark agreement marks critical progress toward a more balanced trade relationship and a more level playing field for American workers and companies."
Despite all the positives, USTR said it will be maintaining 25% tariffs on approximately $250bn of Chinese imports, and another 7.5% on an additional $120bn of goods.
In terms of expanding trade, China has agreed to "import various US goods and services over the next two years in a total amount that exceeds China's annual level of imports for those goods and services in 2017 by no less than $200bn", USTR said.
According to Reuters, Lighthizer told reporters Beijing had committed to buying $32bn more US farm products over the next two years, on top of a "baseline" of $24bn in Chinese purchases in 2017.
USTR continued: "China's commitments cover a variety of US manufactured goods, food, agricultural and seafood products, energy products, and services. China's increased imports of US goods and services are expected to continue on this same trajectory for several years after 2021 and should contribute significantly to the rebalancing of the US-China trade relationship."
Trump also indicated the ongoing trade talks will proceed with speed. "We will begin negotiations on the phase two deal immediately, rather than waiting until after the 2020 election," he tweeted on Friday.