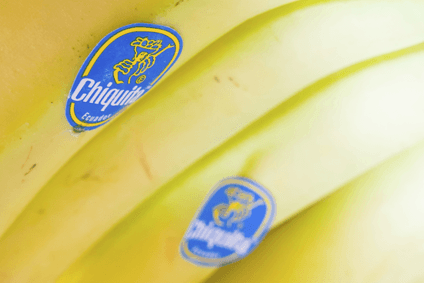 Chiquita Brands International uses "unfair and deceptive" marketing for its bananas, an NGO that works on developing sustainable water systems has claimed in a lawsuit.
US-based Water And Sanitation Health has criticised the produce giant's advertising practices because, it alleges, a supplier to the company in Guatemala has polluted water supplies.
The suit says Chiquita "advertises that its bananas are farmed in an ecologically friendly and sustainable manner". Wash founder Eric Harrison claimed the company's marketing is "far from the truth".
In the suit, WASH claims drinking and river water near the plantation in the Central American country have become polluted from the use of pesticides, fungicides and fertilizers by Chiquita supplier COBIGUA. Drinking water in six local communities has been contaminated, the NGO alleges.
"Chiquita sells millions of pounds of bananas that are produced in ways that destroy natural ecosystems and contaminate the drinking water of local communities living next to Chiquita's largest Guatemalan supplier," WASH founder Eric Harrison said. "The pesticides and fungicides used on these Chiquita-contracted plantations are toxic, and the aerial application falls on homes, schools, and residents. Trucks bear Chiquita's logo, signs near the plantations bear Chiquita's logo, and though Chiquita may not own the plantation property, the Chiquita affiliation is undeniable."
Harrison also took aim at the Rainforest Alliance, which certifies Chiquita's bananas.
"When I brought this to their attention, both they and Chiquita became very uncomfortable," Harrison said. "If consumers believe the little-green-frog endorsements given by the Rainforest Alliance are true, then the Rainforest Alliance ought to be certain that those products are indeed eco-friendly and farmed in a sustainable, non-polluting, non-harmful manner as they claim. Otherwise, why should consumers think that the Rainforest Alliance is anything more than a marketing tool?"
Harrison said the Rainforest Alliance had since taken some marketing materials for Chiquita off of the certification group's site but he insisted "more must be done to curb Chiquita's deceptive marketing practices".
In response, the Rainforest Alliance said: "Recently, Water and Sanitation Health (WASH) raised complaints to the Rainforest Alliance regarding Chiquita Brands International and the marketing of bananas it sells from Rainforest Alliance CertifiedTM banana farms in Guatemala. In response to WASH, the Rainforest Alliance conducted investigative audits of the relevant certified banana farms. The auditors found that the farms were in compliance with the Sustainable Agriculture Network (San) certification standards.
"The Rainforest Alliance and the SAN take allegations of non-conformance with the SAN certification standards seriously. We appreciate the role that organisations like WASH play in bringing potential issues to our attention."
Chiquita had not responded for a request for comment at the time of writing.