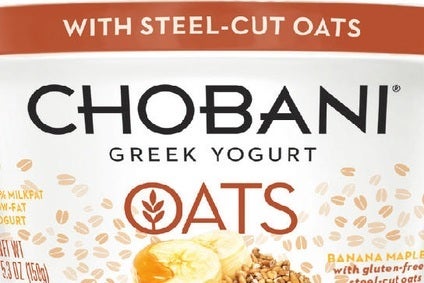 Chobani has denied it is trying to hide the amount of sugar in its yoghurts, a claim which has been brought against the US firm in a class action lawsuit.
The lawsuit alleged Chobani "purposefully misrepresented" to consumers that its products contain evaporated cane juice, which the action argued is "not juice at all". The suit added the juice was "sugar dressed up to sound like a healthier sweetener".
It went on to make comparisons between the amount of sugar in a Chobani yoghurt cup and a Nestle fudge ice cream bar.
A spokesperson for Chobani told just-food on Friday (20 June) "equating Chobani to an ice cream bar is like comparing apples and watermelons".
"Our yoghurt is packed with protein, our fruit is real fruit and we have always been committed to making delicious food using only natural ingredients. We're proud that the majority of our products contain less sugar than competing brands (an average of 20% less)," they added.
This is not the first time the firm has been dragged to court over the evaporated cane juice it details on its labels. In February, a case alleging Chobani misled consumers over the ingredient was thrown out of court by a judge.
"We market our products transparently with labelling that is clear, commonly understood and widely used and all of our labels comply with all laws and regulations. We have proudly built Chobani on being truly authentic and totally transparent, and fully stand behind our products and our craft," the Chobani spokesperson said.