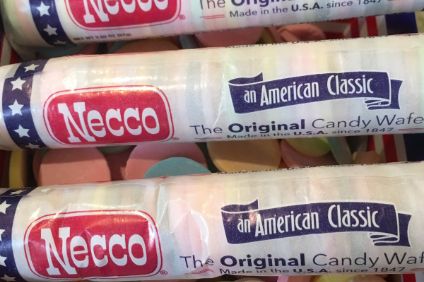 US candy maker New England Confectionery Company, or Necco, has reportedly been shut down and sold again, just weeks after being bought out of bankruptcy.
The Boston Globe said yesterday (25 July) Round Hill Investments, which through its Sweetheart Candy Co. vehicle snapped up Necco in May for US$17.3m, had closed the company's factory on Tuesday after selling the business.
"Round Hill Investments was very excited to acquire Necco's historic brands and to be part of their national resurgence," the company said, according to a statement attained by The Boston Globe. "After careful engagement and consideration, however, the firm decided to sell the brands to another national confection manufacturer and today announced the closure of the operations in Revere, Massachusetts."
The newspaper reported Round Hill Investments did not disclose the entity that has bought the brands.
It is the latest twist in the tale surrounding Necco. Round Hill Investments swooped to acquire Necco in May just days after a bankruptcy auction for the confectioner had named Ohio-based peer Spangler Candy Co. as the buyer with a $18.8m offer.
However, earlier this month, it was reported a dispute had erupted between the trustee of Necco and Round Hill Investments about the terms of the final payment for the candy supplier.
Round Hill was reportedly accused of trying to back out of a final payment of $1m by claiming it did not know about a warning issued to Necco regarding serious health code violations.
The Boston Globe reported Round Hill was being sued for breach of contract and unfair and deceptive business practices by the court-appointed trustee handling Necco's bankruptcy case.
In a complaint filed in US Bankruptcy Court in Boston, trustee Harry B. Murphy said Round Hill claimed it was unaware of the warning that was issued to Necco by the Food and Drug Administration in May, according to the newspaper.
The warning had to do with serious health code violations, including rodent faeces found in various areas where candy was produced late last year.
Murphy filed the complaint against Round Hill on 3 July, after the company missed its deadline to pay the first of four $250,000 instalments as part of its purchase of Necco, according to the newspaper.