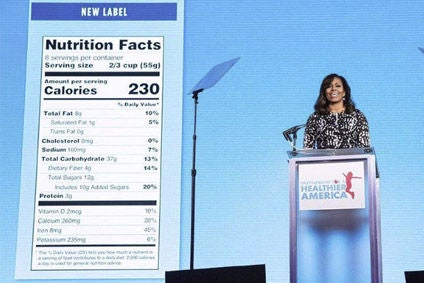 Food companies operating in the US are set to be given almost 18 months longer to implement the changes to the Nutrition Facts labels used on food sold in the country.
Manufacturers generating more than US$10m in annual sales had been given until 26 July 2018 to change labels, which were announced in May last year and included the addition of information on "added sugars". Businesses generating sales of less than $10m were to be given an extra year.
However, on Friday (29 September), the US Food and Drug Administration said they planned to push back those dates to 1 January 2020 and 1 January 2021.
The FDA said it changed the dates to meet the "continued concern" from "companies and trade associations" about the initial deadlines. The proposed new timetable is now being put out for public comment.
Some food manufacturers doing business in the US have already brought in the new labels. Nevertheless, US trade body The Grocery Manufacturers Association said it welcomed the move.
Pamela Bailey, the GMA's president and CEO, called the proposed move "a common-sense extension". She added: "FDA's new compliance date will provide companies with the necessary time to execute these updates to the Nutrition Facts Panel in a manner that will reduce consumer confusion and costs in the marketplace."
However, the extension was criticised by some campaign groups. "The Food and Drug Administration's decision to cave in to food industry demands and delay the deadline for companies to update their Nutrition Facts labels harms the public's health, denies consumers vital information, and creates an unfair and confusing marketplace as many companies have gone ahead with the labels anyway," Dr Peter Laurie, the president of the Center for Science in the Public Interest, said.