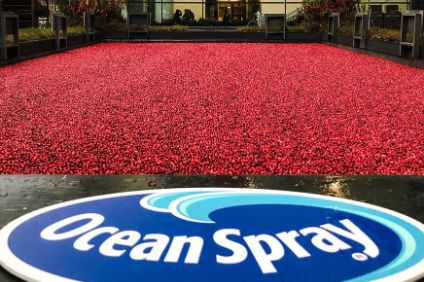 US-based cooperative Ocean Spray Cranberries is acquiring Canada's Atoka Cranberries from The Bieler Group for an undisclosed sum.
Ocean Spray said the deal will expand its manufacturing footprint in Quebec, the second-largest and fastest-growing cranberry farming region in the world. Atoka is located in Manseau, Quebec.
"This is a strong investment for Ocean Spray and our 700 farmer-owners," said Ocean Spray CEO Randy Papadellis. "Ocean Spray's brand strength and global marketing reach, coupled with Atoka's unique product portfolio and location, will benefit all of our farmers and expand the reach of the overall Quebec cranberry industry."
In addition to acquiring the Atoka brand and processing facility, Ocean Spray intends to purchase The Bieler Group's freezer and receiving facilities in the coming year. It said it plans to make additional capital investments in these facilities to further increase efficiency and improve yield.
The Bieler Group will become a farmer-owner of the Ocean Spray cooperative.
Atoka's approximately 130 employees will become part of the Ocean Spray manufacturing network, which includes five food plants located in Massachusetts, Wisconsin, Washington, and Lanco, Chile, as well as four beverage facilities in Wisconsin, Pennsylvania, Texas and Nevada.
"The employees of Atoka and Ocean Spray share a similar culture of quality and customer focus, as well as a unique dedication to increasing demand for cranberries," said Marc Bieler, chairman and CEO of The Bieler Group. "Bringing together these two businesses is exciting and we look forward to joining Ocean Spray as a farmer-owner."
Ocean Spray's cranberries are featured in more than a thousand products in over 100 countries worldwide. It has more than 2,000 employees and nearly 20 cranberry receiving and processing facilities.
Atoka was founded in 1984, initially as a cranberry farming operation.