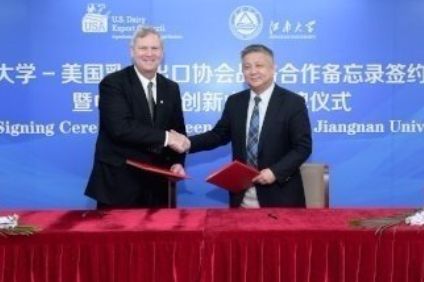 Against a backdrop of trade tariffs between the US and China, the US Dairy Export Council (USDEC) has agreed a partnership with China's Jiangnam University which it hopes will help pave the way for American dairy export growth in China.
The memorandum of understanding (MOU), linked to innovative practices, was signed in China by university vice president Xu Yan and USDEC president and CEO Tom Vilsack.
"The Jiangnan partnership is a concrete, game-changing agreement that will lead to fruitful new opportunities that mutually benefit both China and the United States," Vilsack said.
"China is a top-priority market for the US dairy industry, and we are very excited to be working with one of the best food science schools in the nation."
Xu said: "We are very pleased to establish the US-China Dairy Innovation Center at our university together with USDEC.
"The centre aims to facilitate research innovation and technical services for the dairy and food industries and also strengthen education cooperation and research collaboration in dairy science and technology between our two countries."
USDEC said it expects the MOU to encourage the development of innovative, China-friendly product formulations that incorporate US dairy ingredients, particularly whey and milk proteins and skim milk powder.
And it suggests US dairy suppliers will be more engaged with and responsive to China's food industry through access to in-market facilities and opportunities for jointly pursuing innovation projects.
"This MOU is further evidence of the US industry's desire to elevate its presence and demonstrate its commitment to meet the needs and desires of Chinese customers and consumers with sustainably produced U.S. dairy products," said Vilsack.
The agreement follows a series of USDEC-led efforts aimed at building relationships in China and removing barriers to trade to level the playing field with competitors, including last year's MOU on US dairy plant registration and the unilateral reduction in Chinese cheese tariffs.