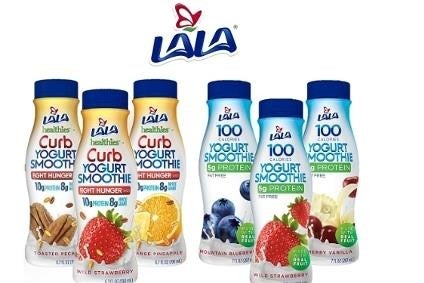 A yoghurt smoothie which claims to curb hunger has been unveiled by US dairy group Borden Dairy.
The Lala Healthies Curb is the first of the brand's new Healthies line, a range of better-for-you varieties. Containing grains and proteins specifically designed to fight hunger while on the go, the Lala Healthies are said to keep you "full for longer".
Another newcomer to the Lala stable is a 100-calorie yoghurt smoothie.
The new products join Lala's signature range of Greek and Core Yoghurt smoothies, which are free of high-fructose corn syrup, artificial colours or flavours, and contain real fruit.
"We know that 59% of yoghurt drinkers consume them as a meal, so we wanted to provide options for people who regularly eat on the run, but don't want to sacrifice flavour or nutrition," said Desiree Johnson, director of marketing at Borden Dairy. "We are continuously looking to provide our customers with added benefits and new Lala Healthies Curb and Lala 100 Calorie are a great way to do so."
Lala Healthies come in a range of flavours, including Wild Strawberry, Toasted Pecan and Orange Pineapple. They are available in four-packs of 6.7 oz. bottles.
Lala 100 Calorie Yogurt Smoothies come in three flavours – Wild Strawberry, Mountain Blueberry and Cherry Vanilla. Both products will be available nationwide in the US from the beginning of next month.
Borden distributes the Lala brand, which is owned by Mexico's Grupo Lala, in the US. The company has been expanding the range of Lala products it offers in the market and recently announced plans to expand distribution of Lala Frutas dairy and fruit beverage line and a Lala Oaxaca cheese.