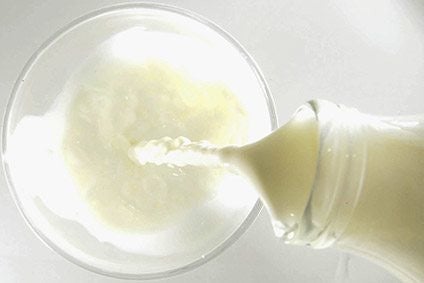 Dairy industry groups in the US are urging the government to provide a "comprehensive action" plan for the sector as the Covid-19 crisis causes a disparity between supply and demand.
The National Milk Producers Federation (NMPF) and the International Dairy Foods Association (IDFA) said they have sent recommendations to the US Department of Agriculture for a "swift" action plan as the supply of dairy products outweighs demand by "at least 10%".
And they said the situation will get worse as the seasonal peak in supply approaches.
"NMPF and IDFA urge USDA to use as many tools as possible – as quickly as possible – to bridge the supply and demand gap without creating any long-term market repercussions," the organisations said in a joint statement.
While they welcomed the recent introduction of the Cares Act – Coronavirus Aid, Relief and Economic Security – by the Trump administration, they are calling for more to support the US dairy industry. The Act includes measures such as employment insurance provisions, tax relief and lending programmes for businesses.
"The NMPF-IDFA plan calls for USDA and the Administration to go above and beyond traditional programmes and solutions to bring balance and certainty to the dairy industry in the months ahead," they said.
"The organisations also ask that USDA harness the productive capacity of US dairy to address the growing and widening food insecurity facing many Americans by redirecting wholesome, nutritious dairy foods to food banks and national nutrition programmes."
NMPF and IDFA added that the Covid-19 pandemic has "upended" the US dairy supply chain, lowering milk prices and reducing demand, particularly as restaurants and other foodservice businesses have been ordered to close.
Michael Dykes, the president and chief executive of IDFA, said: "The Covid-19 crisis has hit the dairy industry with a unique set of challenges that impact our dairy farmers and processors equally hard. As the impact deepens across our economy, the federal government must go above and beyond traditional programmes and solutions to bring balance and certainty to the dairy industry.
"The dairy industry requires a response that is robust, broad and strategic enough to lift all boats in a way that prevents long-term market impacts, preserves the supply chain so the industry remains intact once the Covid-19 crisis passes."
Jim Mulhern, the president and CEO of NMPF, continued: "The foodservice sector [has] come to a standstill, dairy sales outside retail channels have plummeted. Market prices have fallen rapidly, creating a crushing economic outlook for producers of nutritious, and necessary, milk and dairy products.
"While no plan can wholly remedy the losses that are occurring, dairy is responding with a united plan that can help mitigate the damage caused to it by the Covid-19 pandemic."