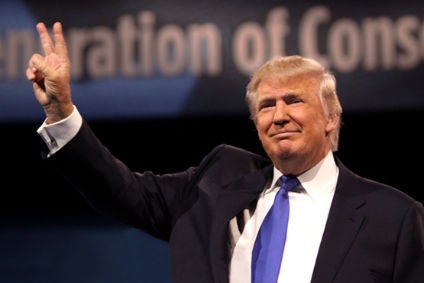 The US dairy industry has called on President-elect Donald Trump to look at Canada's "protectionist" trade policies and "flouting" of its "trade obligations", which industry organisations argue are hitting American companies.
Three associations – the International Dairy Foods Association, the National Milk Producers Federation and the US Dairy Export Council – alongside the National Association of State Departments of Agriculture – wrote to Trump to highlight what it believed are Canada's "direct violation of its trade commitments with the United States with respect to dairy".
The organisations said Canadian regulations are "intentionally designed" to block imports from the US. They also pointed to policies soon to be implemented that will negatively effect US dairy companies.
"The US dairy industry is already restricted by Canada's exorbitant tariffs and the limited market access granted under the North American Free Trade Agreement. As one of our top trading partners, Canada's flouting of its trade obligations is unacceptable. It is clear that these policies were implemented to intentionally block imports from the United States and are therefore in direct violation of Canada's trade commitments under NAFTA and the World Trade Organization," they wrote.
In the letter, the organisations pointed to Canada's provincial policies for ingredient class milk pricing, brought in last April, which they said are "displacing" US exports into Canada and costing the US "thousands of jobs on farms, in processing plants and throughout the supply chain". They claimed the policies were hitting US ultra-filtered milk exports to the tune of at $150m.
"In fact, the entire US dairy industry is being hurt, as milk prices are being driven down nationally by Canada's trade actions. Further, these displaced US dairy exports are also
depressing global skim milk prices," the letter claimed.
The organisations said a move by the Canadian dairy industry to put forward a national ingredients strategy "adds insult to injury". The strategy would see Canada's provincial programmes taken across the country and would further hit US exports and jobs, they wrote.