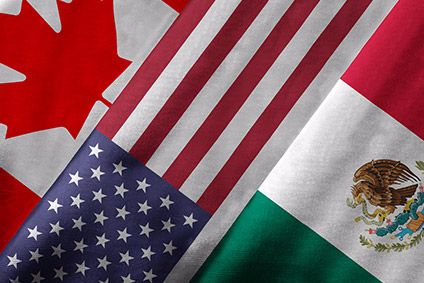 Dr Michael Dykes, president and CEO of the International Dairy Foods Association (IDFA), has said "significant uncertainty" persists over US trade arrangements.
Speaking at the International Dairy Federation's (IDF) World Dairy Summit in Belfast, he said that a proactive trade policy is essential for the US, but the Donald Trump administration, with its America First policy, has cancelled some international trade agreements – such as the Trans-Pacific Partnership (TPP) – and threatened to close down others.
"We have significant uncertainty. We don't know from one day to the next what our policy will be," Dykes said.
He said that there has been increased opposition to international trade during President Trump's tenure and there is uncertainty about who is leading the country's trade efforts.
"Trump said we would do bi-lateral agreements but none have been negotiated," he said.
Dykes said the dairy industry fears that the US will withdraw from NAFTA (the North American Free Trade Agreement) which has allowed for free trade between the US, Canada and Mexico since 1994.
Mexico is the US' largest export market.
"At the IDFA we have been campaigning aggressively for trade," said Dykes.
"We have had meetings in Washington to explain why trade is important to dairy and why it is important we stay in NAFTA.
"The world population is growing and 95% of consumers are outside US borders.
"A proactive trade policy is crucial for US dairy."
Dykes' comments follow a warning from 87 US food and agricultural organisations that ending NAFTA could cost 50,000 jobs in the sector and reduce gross domestic product by US$13bn.
In a letter to US secretary of commerce Wilbur Ross, they disputed his recent assertions that the threat to American agriculture from a US withdrawal from NAFTA was an "empty threat".
The agricultural groups' letter in response said: "We respectfully submit that notification of NAFTA withdrawal would cause immediate, substantial harm to American food and agriculture industries and to the US economy as a whole."
The groups noted that under NAFTA, US food and agriculture exports to Canada and Mexico have grown by 450%.
Negotiations between the three NAFTA countries will reconvene on 17 November in Mexico City.