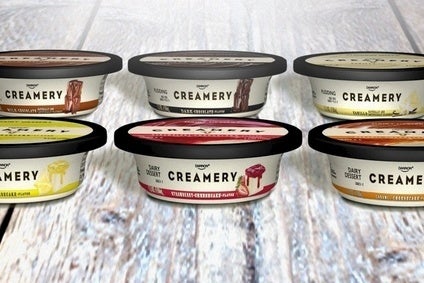 Danone is to launch desserts brand Dannon Creamery in the US, targeting consumers after their evening meals.
Five "cheesecake-inspired" lines and three puddings will be rolled out next month.
The cheesecake-inspired lines contain Greek yoghurt. Sales of Greek yoghurt have risen sharply in recent years but products are mainly eaten at breakfast or as snacks during the day.
Danone is hoping Dannon Creamery will help it capture meal occasions later in the day.
Sergio Fuster, chief marketing officer at Danone's US arm Dannon, said the development of the products would help grow the dairy category.
"This is another example of Dannon leading category growth and it's not just another flavour or line extension. Dannon Creamery is the launch of a new category within dairy," Fuster claimed. "Expanding into the dessert market and evening day part is a necessary next step to continue to grow the dairy category."
Dannon Creamery will be available across the US next month, with a suggested retail price of $1.69. The three puddings include dark chocolate and vanilla lines. The five cheesecake-inspired products include: strawberry, blueberry and lemon.