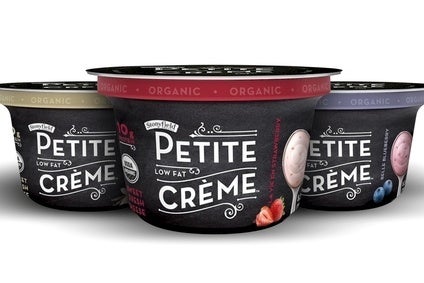 Danone's US organic dairy unit Stonyfield is looking to encourage Greek yoghurt eaters in the country to choose the "mild and creamy" fresh cheese product Petite Crème.
The product is made with cheese cultures added to organic milk, instead of yoghurt cultures, which Stonyfield said gives the line a "mild, fresh flavour".
"As organic Greek yoghurt makers ourselves, we're not trying to replace Greek, but we know that there are people out there looking for something to add to their fridge and others who never really got into Greek yoghurt," said Sophie Schmitt, director of marketing at Stonyfield, said. "We discovered some people are eating Greek yoghurt even though they don't like it. We wanted to give each and every one of those people something to love."
Petite Crème comes in 5.3 oz single-serve cups in seven flavours, including those dubbed La Vie en Strawberry, Belle Blueberry and Ooh Lala Peach.