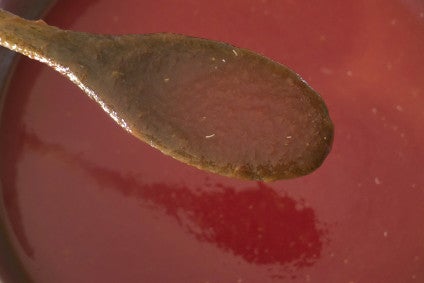 The US Food and Drug Administration today (1 June) outlined its bid to reduce the average salt consumption from 3,400 milligrams per person per day to 2,300mg.
The FDA has put forward proposals for there to be two sets of voluntary targets for the food industry and is inviting comment.
Under the plans, interim, two-year targets will be set to try to reduce consumption to "about" 3,000mg a day. A more ambitious, second target for manufacturers to meet over a ten-year period to bring the average daily intake down to 2,300mg will also be put in place.
The US Dietary Guidelines for Americans, issued earlier this year, recommend adults limit their sodium intake to 2,300mg a day.
The FDA has drawn up draft targets by food category. The guidance covers packaged foods sold in retail outlets, as well as common foods served in restaurants and other food service establishments.
Consumers in the US eat almost 50% more sodium that most experts recommend, the FDA said. The regulator insisted the relationship between reducing sodium consumption and health is "clear", pointing to the link between rising sodium intake and higher blood pressure, which it said is "a major risk factor" for heart disease and stroke.
"Many Americans want to reduce sodium in their diets, but that's hard to do when much of it is in everyday products we buy in stores and restaurants," Sylvia Burwell, the US Secretary for Health and Human Services, said. "Today's announcement is about putting power back in the hands of consumers, so that they can better control how much salt is in the food they eat and improve their health."
The FDA said it is "especially encouraging" food manufacturers with products that make up "a significant portion of national sales in one or more categories", as well as restaurant chains that are "national and regional in scope", to adopt the targets.
The regulator estimated less than 10% of packaged foods account for more than 80% of sales. It also pointed to data from the US Department of Agriculture that suggested about 50% of every dollar spent on food goes to food consumed outside the home.
"The totality of the scientific evidence supports sodium reduction from current intake levels," said Susan Mayne, director of the FDA's Center for Food Safety and Applied Nutrition. "Experts at the Institute of Medicine have concluded that reducing sodium intake to 2,300 mg per day can significantly help Americans reduce their blood pressure and ultimately prevent hundreds of thousands of premature illnesses and deaths. Because the majority of sodium in our diets comes from processed and prepared foods, consumers are challenged in lowering their sodium intake themselves."
The FDA's draft guidance includes what it calls "a common system" for defining and measuring progress on reducing sodium in the US food supply. The regulator wants to establish "reasonable, voluntary reduction targets for the majority of processed and prepared foods" and is placing foods in nearly 150 categories from bakery products to soups.
For example, the FDA said 2010 data showed a tomato-based sauce contained 591mg per 100g of sodium on average. It has put forward a draft "short-term" target for that to fall to 510mg across the category. The ten-year "long-term" target has been drafted at 370g.
It said the draft targets factor in data on consumer preferences, as well as the efforts the industry is making to reduce sodium. "The FDA is confident that the short-term targets, which seek to decrease sodium intake to about 3,000 mg per day, are readily achievable. In fact, many foods, such as top- selling pretzel products, have already met the short-term target," the regulator said in a statement.
Mayne added: "We believe that the time is now to engage in a national dialogue on the problem of excess sodium. Publishing these targets is an important step in that dialogue."
In October, US consumer the Center for Science in the Public Interest had filed a lawsuit against the FDA, calling for action on a 2005 petition the advocacy group had placed to ask the regulator to reduce sodium consumption.
Reflecting on today's announcement, the CSPI reiterated that it wanted legislation, rather than voluntary targets but had some praise for the FDA's plan.
"We hope that industry will work cooperatively with the FDA and health experts to achieve the proposed reductions, which would benefit the health of all Americans," CSPI president Michael Jacobson. "While this is a voluntary approach as opposed to the mandatory approach we asked for and that the Institute of Medicine endorsed, it provides clear goals by which companies can be held accountable.  And, it helps level the playing field for those companies that are already trying to use less salt in their foods."
The Grocery Manufacturers Association, the industry organisation representing food manufacturers operating in the US, had not provided a reaction at the time of writing.
The FDA has put forward the two-year targets for 90 days of public comment. The ten-year targets is open for comment for 150 days.