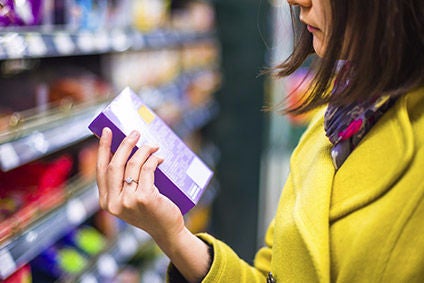 The US Food and Drug Administration has kicked off its bid to draw up new rules on how food companies operating in the country can use the phrase "healthy" on their labelling.
The FDA said yesterday (27 September) it had started "a public process to redefine the 'healthy' nutrient content claim".
"Public health recommendations for various nutrients have evolved, as reflected by the 2015-2020 Dietary Guidelines for Americans and the updated Nutrition Facts label," the FDA said. "For example, healthy dietary patterns now focus on food groups, the type of fat rather than the total amount of fat consumed and now address added sugars in the diet. Also, the nutrients of public health concern that consumers aren't getting enough of have changed."
In the meantime, the FDA has issued guidance for manufacturers that wish to use the "healthy" claim. "The guidance advises food manufacturers of our intent to exercise enforcement discretion with respect to the implied nutrient content claim 'healthy' on foods that have a fat profile of predominantly mono and polyunsaturated fats, but do not meet the regulatory definition of 'low fat', or that contain at least 10 percent of the Daily Value (DV) per reference amount customarily consumed (RACC) of potassium or vitamin D."
The FDA first announced its plans to look again at rules governing the nutrient content claim in May after a dispute with Kind LLC over how the US snack bar maker was using the term.
Last year, the FDA announced Kind had breached rules around making health claims on products. The FDA looked at four lines and found they broke regulations on health claims and on the listing of ingredients.
Among the violations, the FDA said Kind was making nutrient content claims on products that did not meet the requirements to match the assertions. The regulator said Kind was making "an implied nutrient content claim" on four bars by using the phrase "healthy and tasty, convenient and wholesome" on the labels.
The FDA said Kind could not say the bars were "healthy" as they contain higher-than-permitted levels of saturated fat. Kind immediately changed its packaging but started work on challenging the FDA's decision, launching a citizens petition, with the support of a range of US academics.
Kind argued its use of the phrase "healthy and tasty" was part of its "corporate philosophy", rather than a health claim.
Earlier this month, after talks with Kind, the FDA relented. In an announcement on 10 May this year, the FDA reversed last year's decision and said Kind could use the word "healthy" on the packaging of its snack bars and on its website.
However, the FDA also announced it would look again at nutrient content claims more broadly.
"In light of evolving nutrition research, forthcoming Nutrition Facts labelling final rules, and a citizen petition, we believe now is an opportune time to reevaluate regulations concerning nutrient content claims, generally, including the term 'healthy'," the FDA said on 10 May. "We plan to solicit public comment on these issues in the near future."
Responding to the start of the FDA's process to redefine the term, Kind CEO and founder Daniel Lubetzky said: "We're encouraged by the speed of progress within the FDA and see this as a notable milestone in our country's journey to redefine healthy. The FDA has posed a number of important questions for comment, and in our continued efforts to advocate for public health, we're actively convening experts to help provide answers grounded in current nutrition science."