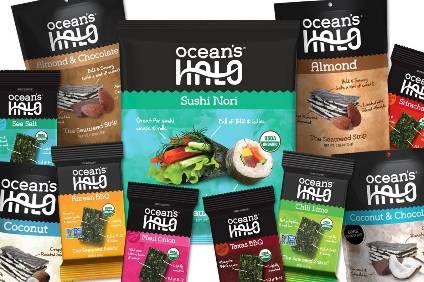 New Frontier Foods, the US firm behind the seaweed-based food brand Ocean's Halo, is looking to set up a factory in Europe as part of a bid to drive its business in the region.
Robert Mock, New Frontier Foods' co-founder, said the company is in discussions over where to locate the facility and indicated it would be at least 2019 before it opened.
"We have three locations, geographies, we're working on and they're all different. It would be a 2019 event at the earliest," Mock told just-food.
New Frontier Foods, set up in California in 2011, sells a range of seaweed-based products, including snacks, broths and sauces in the US, with retailers including Albertsons, Costco and Whole Foods Market among the company's domestic stockists.
The business has a fledgling presence in Europe, having tested some of its products UK organic supermarket chain Planet Organic, which plans to take more of the company's lines.
Speaking to just-food at the Natural & Organic Products Europe trade show in London, Mock said New Frontier Foods had secured listings with other retailers in the UK but declined to provide further details.
Shipping from the US, New Frontier Foods is also looking to cast its net into other European markets. "We do have acceptance for Ireland and have several retailers pending for France and Germany," Mock said.
New Frontier Foods, which farms its seaweed off the coast of South Korea, has its own manufacturing site in the US, located in Cerritos in California, while also using co-packers.
Asked what further opportunities for growth New Frontier Foods has in the US, Mock said: "We've got some pretty neat innovation, our pipeline is deep."
The privately-owned business does not publish financial results. Mock said New Frontier Foods' "growth rate for the last couple of years has been in the triple digits" and was "just" profitable.