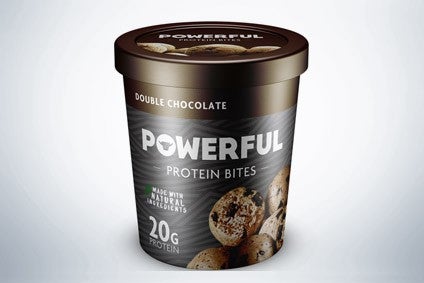 Powerful, the US upstart marketing protein-enhanced food and drinks, is looking to enter another category in its domestic market later this year.
The privately-owned business, which markets yogurt, yogurt drinks and oatmeal, plans to launch Powerful Bites, a frozen snack product sold in tubs.
The snacks are to contain 20g of protein and include ingredients such as nuts and medjool dates. They can be consumed after being removed from the freezer and thawed for five minutes.
Powerful Bites are to be launched at Walmart, which plans to list the product in 3,000 of its US stores. "What we are good is disrupting categories," Powerful founder and CEO Carlos Ramirez told just-food. "If you think about frozen it's a category that's full of junk food, full of food that is not good for you. These are little protein balls. They taste awesome and are 100% natural."
Click here for the full interview with Ramirez, in which he discusses Powerful's plans in the wake of recent investment from US private-equity firm River Hollow Partners.