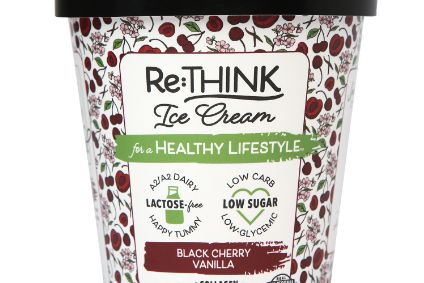 Fledgling US ice-cream business Re:Think Ice Cream is looking for funding, with the California-based firm eyeing expansion east with its reformulated range of products.
Re:Think Ice Cream, which launched its namesake product onto the market in 2018, has listings with more than 500 supermarkets across its home state, Oregon, Idaho, Montana and Utah.
Last week, the company unveiled its new recipe, which uses collagen and the A2 beta-casein dairy protein. The ice cream is also lactose-free.
George Haymaker III, Re:Think Ice Cream's founder and majority shareholder, said: "We're going to try to head east here pretty quickly as soon as I can get some capital. We just launched our reformulations, so we feel like this is really going to put us on the map."
Haymaker said he had so far put "US$2m of my own money" into Re:Think Ice Cream and needed fresh capital. "I'm at the point where I can't go any further," he told just-food.
The Re:Think Ice Cream founder said it had been "gruelling" trying to raise capital for a business of its size "especially in the middle of a pandemic, where everybody's a little puckered up at the moment".
"The key threshold to get to is $3m a year in revenue. At that point, you kick into a whole other level, where private-equity and venture firms are interested because they feel, at that point, you have a tried-and-true concept," Haymaker said.
"We're in that tender middle ground between zero revenue and $3m. I am talking to a couple of equity investors that own PE firms that are thinking of reaching down before they normally work because they're so excited about what we have going on. I need to raise at least $600,000. My plan says that's what it will take to get to $3m [revenue]. I am willing to take more but the problem with that is you have to give up more equity, the more you raise."
Haymaker said his product was the first ice cream in the US to offer collagen, the A2 beta-casein and be free of lactose.
While sampling Re:Think Ice Cream products made with the previous recipe, Haymaker said he heard how some consumers were avoiding dairy ice cream because they believed they were lactose-intolerant and were switching to a plant-based alternative. He argues many of those shoppers may in fact be "averse" to the A1 beta-casein, which can cause stomach discomfort in some consumers.
"What if I could give them an authentic dairy ice cream that gave them the full satisfaction of the ice cream texture, but did so in a way that didn't bother their stomachs? That was the driver," he said.
In developing the new ice cream recipe, the company still ensured it was free of lactose. "We can promise everyone, whether you're lactose intolerant or you're A1 protein averse, that we can give you an ice cream that you will not have a problem with," Haymaker asserted. "We are the only ice cream of the world that is currently like lactose-free, A2 dairy. That's a huge opportunity for us."
Re:Think Ice Cream's new recipes include collagen to appeal to the interest among female consumers in the ingredient, he added. "Collagen's super-good for your joints, skin, hair and nails – and it just so happens that it's the number one supplement sought by women in their food, or as a supplement that they put in shakes and so on. Women are our target audience. They're the ones that we pursue in our marketing because they make the food buying decisions for the home and they take the lead on healthier-eating in the home. Collagen fits right into their need."
Haymaker added: "What we're trying to do is build an ice cream that's multi-comprehensive, that delivers not only much lower sugar, calories, carbs and fat but it gives you something in return in addition to a great experience."