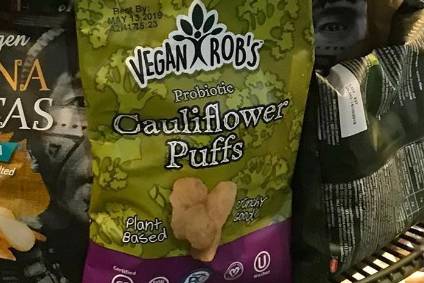 Vegan Rob's, the US vegan firm set up by Pirate's Booty founder Rob Ehrlich , is preparing to enter the UK.
The snacks supplier is in talks to set up manufacturing in the UK ahead of move into the country, Ehrlich told just-food.
Speaking at the IFE trade show in London yesterday (18 March), Ehrlich said he was in talks with a number of potential manufacturers in the UK.
"We co-pack everything in the US – and very, very soon here in the UK," Ehrlich said. "We're working on it here. There's three or four of them that are dying for the business."
Ehrlich set up Vegan Rob's in 2015. The firm, which counts Kroger and Safeway among its customers in the US, is Ehrlich's latest snacks venture, generating sales of more than US$20m.
He is best known for Robert's American Gourmet Foods, which did business as Pirate Brands. In 2008, Ehrlich sold a controlling stake in the company to VMG Partners , retaining a minority shareholding. Five years later,they sold up to US manufacturer B&G Foods. Last year, B&G offloaded the business to Hershey.
Asked if Vegan Rob's had had talks with any UK retailers, Ehrlich said he had met Sainsbury's at the IFE trade show. He is looking to launch the firm's Cauliflower Puffs.
Vegan Rob's already markets to 20 countries, with a presence in markets including Chile, Israel, Hong Kong and Singapore.
Ehrlich said "roughly 20%" of the company's sales are generated in export markets.