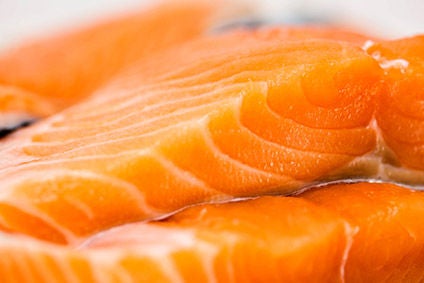 The US Food and Drug Administration (FDA) has announced it will allow genetically-modified (GM) salmon to be sold in the country, lifting a three-year ban on such products.
The product, known as AquAdvantage salmon, is manufactured by Massachusetts-based AquaBounty Technologies, which 'genetically engineers' (GE) the fish so that it grows almost twice as fast as traditional Atlantic salmon despite not needing to eat as much. All the fish it grows are female and therefore cannot breed with each other.
In a statement, FDA commissioner Scott Gottlieb, said: "At the US Food and Drug Administration we're committed to helping food developers bring biotechnology innovations to market, while at the same time providing consumers with confidence that foods available for purchase in the US – whether developed using traditional breeding techniques or biotechnology – meet the FDA's high safety standards."
He added: "We recently advanced a comprehensive framework for the efficient development of safe biotechnology products with our new Plant and Animal Biotechnology Innovation Action Plan. In recent years, we've taken important steps to help advance novel products, including our 2015 decision to approve an application related to AquAdvantage Salmon, a GE Atlantic salmon that contains the first approved IGA in an animal intended for food use.
"Today, we are taking another important step by deactivating a 2016 import alert that prevented GE salmon from entering the US. The FDA's approval of the application related to AquAdvantage Salmon followed a comprehensive analysis of the scientific evidence, which determined that the GE Atlantic salmon met the statutory requirements for safety and effectiveness under the Federal Food, Drug, and Cosmetic Act."
The FDA concluded in 2015 that the genetically-modified salmon was safe to eat and that the genetic engineering methods were safe for the fish, but it remained banned from the US market because of issues based around labelling.
AquaBounty Technologies chief executive Sylvia Wulf, quoted in the Washington Post newspaper, said: "We are delighted that FDA has lifted the import alert, which will allow AquaBounty to begin producing and marketing AquAdvantage Salmon in the United States.
"As FDA notes in this announcement, our salmon was approved by the agency over three years ago based upon a very comprehensive science-based review process, which established that our salmon was safe, nutritious, and environmentally-sound and met all other regulatory requirements."
Canada gave the green-light to AquAdvantage GM salmon in the summer of 2016.