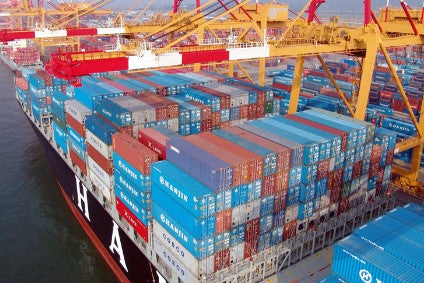 The Grocery Manufacturers Association is among a coalition of 120 US organisations representing sectors including manufacturing and retail that has raised concerns with the US Commerce Department over the bankruptcy of Hanjin Shipping.
The world's seventh-largest container shipper collapsed at the end of August, causing "widespread disruptions in freight shipments worldwide," a letter signed by bodies including the GMA, the US Dairy Export Council and the National Cattlemen's Beef Association and published yesterday (20 September), said. The organisations are now urging US Commerce Secretary Penny Pritzker to find a way to clear up the confusion.
"The impact on small and medium-sized companies could be particularly devastating if this situation is not resolved in a timely manner," the letter said.
The bankruptcy has left billions of dollars worth of merchandise in limbo, some of it sitting in Asia waiting to be loaded onto ships, some already aboard ships lying idle in the ocean and denied entry to ports, and some sitting at already-congested US docks waiting to be picked up. The inability to return empty containers is also causing backups and interfering with chassis availability.
"US businesses rely on predictability in their supply chains, particularly during the busiest shipping season of the year," wrote NRF and the other coalition members.
Among the concerns detailed in the letter is ongoing confusion about the location of cargo, where it will be unloaded and whether a cargo owner's goods will be seized by Hanjin's creditors once the ships are docked.
The coalition also says shippers are facing both higher fees assessed to pick up cargo as well as steadily increasing freight charges as they look for new transportation options.
According to the latest monthly Global Port Tracker report released by NRF and Hackett Associates, import cargo volume at the nation's major retail container ports should still be at near-peak levels in September, even as retailers work to cope with the Hanjin bankruptcy.
But there are nonetheless fears delays to inventory deliveries will lead to less full-price selling and increased clearance.
With debt of about KRW6 trillion (US$5.39bn) at the end of June, according to Reuters, coupled with around KRW40bn in backlogged charter fees amassed after Hanjin Shipping's receivership, the South Korean government has so far been unwilling to mount a rescue.
Nevertheless, the coalition is urging Secretary Pritzker to "continue to work with the South Korean government to bring about a swift and economically beneficial resolution that will allow cargo to move through the global supply chain and give certainty to US businesses".