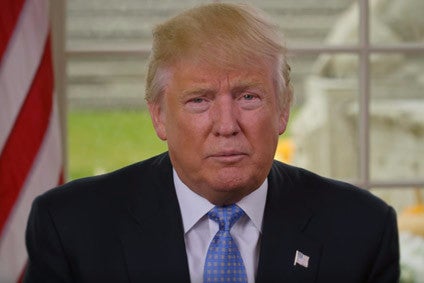 Dozens of US food companies have signed a letter to US President Donald Trump offering to work with his administration on ways to "modernise" the North American Free Trade Agreement to, as they see it, "preserve and expand upon the gains achieved" from the deal so far.
In the letter, the companies say market integration provided by NAFTA "has increased competitiveness in the face of a rapidly-changing global economy" and led to "a windfall for US farmers, ranchers and food processors", creating "US$423bn in US economic activity in 2015".
The letter says "some important gaps in US export access still remain" and "barriers still exist for US exporters". However, it adds: "We look forward to working with your administration on reducing the non-tariff trade barriers that continue to inhibit our exports to the North American marketplace, as well as to addressing the remaining tariffs impeding access for some US export sectors."
President Trump has pledged to push ahead with election campaign pledges to renegotiate NAFTA – and to withdraw from the agreement altogether if the other signatories – Canada and Mexico – refuse to negotiate on a new arrangement "that gives American workers a fair deal".
The letter said US food and agricultural exports "have produced a trade surplus for nearly 50 years". It said: "Consistent growth over this period resulted in over $130bn worth of exports, which created $423bn in US economic activity in 2015. These growing exports have increasingly become a vital share and important source of value to US production. Over the past 25 years the share of US production that is exported around the globe has steadily risen in terms of both value and volume, proving that food and agricultural exports are a successful and valuable part of the US economy."