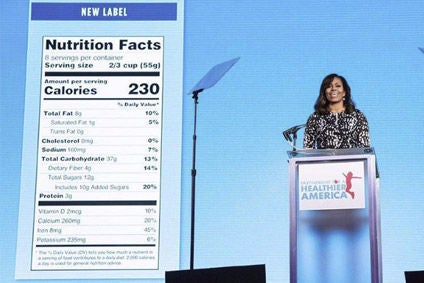 Labels on food sold in the US will include information showing how much sugar has been added by manufacturers.
On Friday (20 May), the US Food and Drug Administration said Nutrition Facts labels would include details on "added sugars" in grams and in percentage form. The move will separate out the sugar suppliers have put in food from the overall amount of the ingredients, which has been welcomed by campaigners.
The announcement finalised proposals set out last summer, when the FDA put forward ideas to change the labels.
"For more than 20 years, Americans have relied on the Nutrition Facts label as a leading source of information regarding calories, fat and other nutrients to help them understand more about the foods they eat in a day," FDA commissioner Robert Califf said. "The updated label makes improvements to this valuable resource so consumers can make more informed food choices – one of the most important steps a person can take to reduce the risk of heart disease and obesity."
In the US, it is recommended added sugars account for no more than 10% of an average consumer's daily energy intake of 2,000 calories.
The changes to the Nutrition Facts label also include serving sizes that "more closely reflect the amounts of food that people currently eat", the FDA said. The last time the information on serving sizes was changed was in 1993.
The labels will include two columns to indicate "per serving" and "per package" calorie and nutrition information for food products that could be consumed in one sitting or multiple sittings. The FDA cited examples like a pint of ice cream and a three-ounce bag of crsips. "People will be able to easily understand how many calories and nutrients they are getting if they eat or drink the entire package/unit at one time," the regulator said.
For packages that are between one and two servings, the calories and other nutrients will be required to be labelled as one serving because people typically consume such products in one sitting.
The new design will also "highlight" the words calories and servings, which the FDA said are "two important elements in making informed food choices".
Information on "Calories from Fat" will be removed. The FDA said research showed the type of fat is more important than the amount. Details on "Total Fat," "Saturated Fat," and "Trans Fat" will continue to be required.
Most food manufacturers will be required to use the new label by 26 July 2018. Suppliers with annual food sales that are less than US$10m will have an additional year to comply with the new rules.
The Grocery Manufacturers Association, which represents food manufacturers operating in the US, said eating habits had changed since the introduction of the Nutrition Facts label. However, the GMA cautioned the changes could confuse shoppers.
"This update is timely as diets, eating patterns and consumer preferences have changed dramatically since the Nutrition Facts panel was first introduced. Food and beverage manufacturers have responded by creating more than 30,000 healthier product choices since 2002, and by providing tools like Facts Up Front front-of-pack labels and our SmartLabel ingredient information initiative," Dr Leon Bruner, the GMA's chief science officer, said.
"Because consumers could be confused by the new label with its numerous changes, a robust consumer education effort will be needed to ensure that people continue to understand how the revised label can be used to make informed choices and maintain healthful dietary practices. We look forward to working with FDA and other stakeholders on messages and activities to help consumers understand what thenew labels mean."
The changes were welcomed in campaign circles.
"Right now, it's impossible for consumers who look at a Nutrition Facts label to know how much of the sugar in foods is added and how that amount fits into a reasonable daily diet," Michael Jacobson, president of Center for Science in the Public Interest, said. "Besides helping consumers make more informed choices, the new labels should also spur food manufacturers to add less sugar to their products."
Jacobson said US First Lady Michelle Obama deserved credit for her role in the introduction of the changes. "Americans concerned about nutrition and their health owe a special debt of gratitude for the role played by the First Lady of the United States," Jacobson said. "Michelle Obama's leadership accelerated these updates to Nutrition Facts labels, and the helpful changes will be a major part of the Obama Administration's food policy legacy, along with improving school foods, eliminating artificial trans fat, putting calorie counts on chain restaurant menus, and spurring positive progress by the food industry."
Obama said she was "thrilled" about the changes. "This is going to make a real difference in providing families across the country the information they need to make healthy choices," she said.