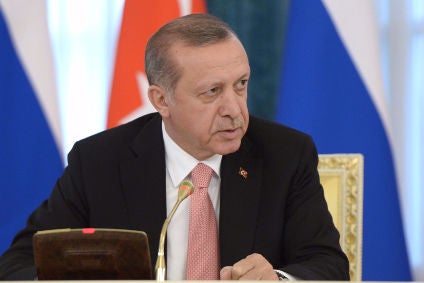 Turkey has slapped additional tariffs on US imports including rice and fruit, escalating a spat with President Donald Trump and piling more pressure on the country's embattled currency.
Turkish President Recep Tayyip Erdogan raised levies on a range of US goods today (15 August), with cars and alcohol hit particularly hard, with tariffs doubling to 120% and 140%, respectively. Coal, cosmetics and tobacco were among other items targeted, with an additional 50% tax on rice, according to an announcement from the country's Official Gazette and covered widely by global media.
The measures are the latest in a tit-for-tat battle waging between the two leaders, with relations on the diplomatic front souring as the US seeks to secure the release of American pastor Andrew Brunson, who is being tried in Turkey on espionage and terrorism-related charges. Trump has also imposed financial sanctions on two Turkish ministers.
In a show of defiance, Trump announced plans to double tariffs on imports of steel and aluminium from Turkey last Friday, with Turkey retaliating on Tuesday with a call to boycott US electronic goods, including iPhones.
The spat has escalated since Turkey imposed a first wave of tariffs on US exports in June, with some media reports putting the value at US$1.8bn. That came in response to Trump's imposition of tariffs on steel and aluminium exports in June from the European Union, as well as Canada and Mexico.
Turkey's Vice President Fuat Oktay said on Twitter the latest tariffs on certain products were increased "within the framework of the principle of reciprocity in retaliation for the deliberate economic attacks by the United States".
Amid the worsening relations between the two countries, Turkey's lira has crashed to a record-low against the American dollar, although it has recovered somewhat in recent days on measures by the central bank to clamp down on currency transactions.
But the diplomatic spat is piling more pressure on the already embattled lira, which has come under pressure as Turkish policymakers refuse to raise interest rates to temper accelerating inflation amid what market watchers say is an overheated economy now at risk of a financial crash.