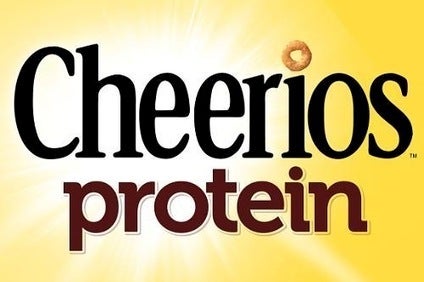 General Mills has become the latest firm to jump on the protein bandwagon with the launch of Cheerios Protein cereal in the US.
The product is available in two flavours, Oats and Honey and Cinnamon Almond, and contain 11g of protein with milk.
"Parents are looking for breakfast options that not only provide long-lasting energy, but also something their entire family will enjoy at times that are right for them," Matt McQuinn, senior marketing manager for General Mills' Big G Cereal new products arm, said. "Cheerios Protein offers the benefits that go along with starting the day with 11g of protein and the great taste of Cheerios that kids and parents already know and love."
Protein is an ingredient of increasing interest to consumers and manufacturers have been developing products to meet that demand. Kellogg already has a Special K Protein on sale in the US.
Industry watchers believe more types of products could reach the market containing the ingredient as NPD teams look to tap into an emerging healthy-eating segment.
Kraft Foods Group has rolled out a snack product under its Oscar Mayer brand containing meat, cheese and nuts, calling the line P3 Portable Protein Pack.
The ingredient has been a factor in the boom in Greek yoghurt sales in the US. Last month, General Mills breakfast cereal rival Kellogg announced a move to team up with Danone in the US with the launch of a product containing cereal and yoghurt – and sought to emphasise the "protein and other nutrition benefits" of the line.