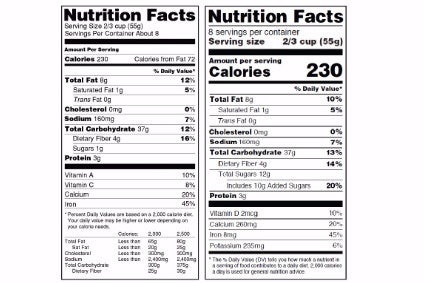 The US Food and Drug Administration has attempted to provide "further clarity" on forthcoming changes to the Nutrition Facts labels on food items.
The new guidance includes advice on added and naturally occurring sugars, fibre and serving sizes.
The changes to the labels were announced in May 2016, with the then Obama administration saying manufacturers had to use the new label by 26 July 2018.
However, by April last year, some manufacturers were calling for the deadline to be pushed back and, in October, the FDA extended the date of implementation until 2020 or 2021 depending on the size of the company – although some companies had already started using the new labels.
The FDA's guidance, announced yesterday, is intended to help businesses understand what they need to do to meet that deadline.
FDA commissioner Scott Gottlieb said: "We're equally committed to providing industry the information they need to effectively implement the new version of the Nutrition Facts label in a timely fashion. Today we issued practical guidances that provide further clarity on several key elements, including fibre, added sugars and serving size declarations."
Gottlieb says he has made nutrition one of his top priorities, and "ensuring that consumers have accurate and science-based information concerning the link between diet and chronic diseases like diabetes, obesity and heart disease is part of that commitment".
He said the Nutrition Facts label has not been "meaningfully updated" in decades, and stressed it is important to provide careful guidance to food manufacturers and to consumers.
"The new Nutrition Facts label incorporates the latest evidence-based information on nutrients, such as added sugars, to provide consumers with more information regarding their food choices," Gottlieb said.
"For example, the old label lists total grams of sugars, but it didn't distinguish between sugars that are naturally occuring in foods like fruits and vegetables, and sugars that meet the definition of added sugars. We've made it our goal to increase consumer awareness of the quantity of added sugars in food products consistent with recent dietary guideline recommendations.
"The new label also contains the new daily value for added sugars, so consumers can better understand how foods with added sugars can fit into a healthy dietary pattern."
Gottlieb said the FDA is also going to be launching an educational campaign to help Americans use the new version of the Nutrition Facts label and interpret the overall nutritional content of products they find on supermarket shelves.
The new guidance for the food industry includes information on the evidence the FDA is looking for on various non-digestible carbohydrates that may be added to food to count them as fibre on the new label.
"Before we published our new evidence-based definition of dietary fibre in 2016, manufacturers could declare synthetic or isolated fibres as dietary fibre on the label even if they did not have a physiological effect that is beneficial to human health," Gottlieb said.
"Our new definition allows naturally-occuring fibres in fruit, vegetables and whole grains to be considered fibre, as well as seven other isolated or synthetic fibres that are well recognised by the scientific community for having physiological benefits.
"But we're also aware of evidence that other isolated or synthetic fibres could also benefit human health, such as improving glucose and cholesterol levels, increasing frequency of bowel movements and increasing satiety (the feeling of being full after eating), which can lead to a reduced calorie intake."
He said the FDA has been evaluating data submitted to it from the food industry in petitions on various non-digestible carbohydrates and will communicate its decisions on these petitions soon.
The FDA had also issued guidance on declaring added sugars on the label of honey, maple syrup and certain cranberry products and updated requirements for serving sizes that more accurately reflect what people actually eat and drink.
"All of these guidances are reflective of the feedback we heard about the desire for more information on these important topics," Gottlieb said.
"As we move forward with implementing the new labelling, we believe these guidances will help provide information that industry has sought from the FDA by providing the agency's current thinking on these topics."
Following the new guidance, consumer watchdog the Center for Science in the Public Interest (CSPI) has called for the updated Nutrition Facts labels to be brought in before the 2020/2021 deadlines.
Jim O'Hara, the CSPI's special projects director, said: "With today's release of the guidance, a July 2019 compliance date for all companies for the updated Nutrition Facts label is both realistic and achievable.
"In fact, more than 15,000 of the upgraded labels are already on grocery store shelves. Label Insight, a company that tracks food labelling, has found what it calls an "exponential" increase in use of the updated labels.
"Consumers deserve the updated labels sooner rather than later. Although we have concerns about some elements of the guidance documents released today, they are largely reasonable and scientifically sound."