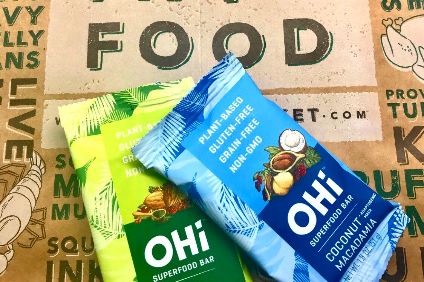 OHi Food Co., the California-based healthy snack bar business, has attracted investment from Canadian venture capital fund District Ventures Capital.
OHi, which makes the refrigerated OHi Superfood Bar, is a natural food company founded in 2013 on Maui, Hawaii, by Dawn Anderson. Its bars – which are all sold from the chiller cabinets – are plant-based, non-GMO project verified, certified grain- and gluten-free, among other attributes.
The amount Toronto-based District Ventures Capital has invested in the company is undisclosed.
OHi said District's investment will help "supercharge the growth" of the business through marketing support, business development and commercialisation services.
Anderson said: "We are thrilled about our partnership with District Ventures, as we have already witnessed growth tied directly to their investment."
Arlene Dickinson, general partner of District Ventures Capital, said: "Today's consumer is much more sophisticated and educated than they have ever been. They seek products which not only satisfy their taste buds but have health benefits – both qualities that OHi superfood bars possess.
"OHi's superfood bars are one of the very few 'real' innovations we've seen from the energy bar category in a long time and we are thrilled to be able to aid their growth."