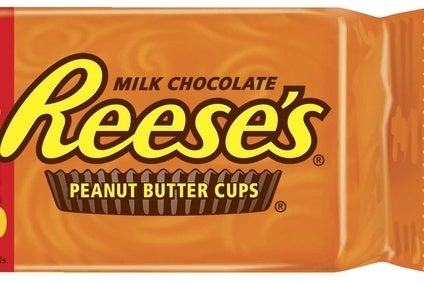 Hershey has filed a federal trademark infringement lawsuit against a marijuana dispensary in Seattle alleging that some of the products it carries infringe Hershey's trademarks and make marijuana-laced products "more appealing to children".
The lawsuit calls for the Seattle Conscious Care Cooperative (SCCC) to stop selling its Reefer's Cup and Mr Dankbar brands of marijuana-laced chocolate. Hershey wants the dispensary to "account for all gains and profits from selling the items," destroy remaining stock and pay unspecified damages.
In correspondence to just-food yesterday (6 June) a spokesperson for Hershey said the core issues of the case were "trademark infringement and dilution".
"The Hershey Company's trademarks are iconic and among our company's most important assets. They are recognised by consumers around the world, and our company has spent as many as 120 years building the trust and equity in these iconic brands. Consumers depend on our brand names to represent a level of quality and dependability. These entities have used Hershey's trademarks, without authorisation, to trade on Hershey's goodwill and reputation and to draw greater attention to their products.
"We have always vigorously protected our brands and will continue to do so whenever we believe that others have infringed on these valuable intellectual assets," he added.
In addition to defending Hershey's intellectual property, the spokesperson suggested that linking products that contain marijuana to Hershey brands could increase their appeal to children. "These unauthorised uses of Hershey's trademarks also makes the products more appealing to children."
Since December 2012, it has been legal for adults over the age of 21 to carry small quantities of marijuana and marijuana-infused products for personal use in Washington state. The sale of these products is overseen by the Washington State Liquor Control Board. It is, however, illegal to sell such products to people under 21 years.