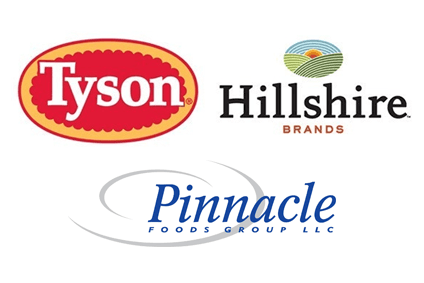 Hillshire Brands' board has withdrawn its support for the US group's acquisition of local peer Pinnacle Foods in the wake of Tyson Foods' US$8.55bn takeover bid for the Jimmy Dean sausage maker.
A week after Tyson tabled its bid for Hillshire, trumping interest from US meat rival Pilgrim's Pride in the process, directors at Hillshire are urging investors to vote against the company's move for Pinnacle, which was announced last month.
Hillshire said today (16 June) its board believed Tyson's offer was a "superior proposal" compared to the planned deal with Pinnacle.
"The Tyson Foods proposal would, if consummated, result in a transaction that is more favorable to its stockholders from a financial point of view than the Pinnacle Foods acquisition," Hillshire said.
When Tyson announced its bid last Monday, Hillshire said it would review the offer but stated it did not have the right to terminate the agreement with Pinnacle.
Hillshire contacted Pinnacle and said its board would change its recommendation. Pinnacle was able to put forward changes to the deal between the two companies. "Pinnacle Foods made no such proposal," Hillshire said today.
If Pinnacle rips up the agreement before a vote of Hillshire's shareholders, it may be entitled to receive a termination fee of $163m. If Pinnacle chooses not to terminate the agreement and instead requires Hillshire's investors to vote on the deal, Hillshire said it will then be entitled to terminate the transaction. Pinnacle may then receive a fee of $43m followed by an additional $120m "under certain circumstances".