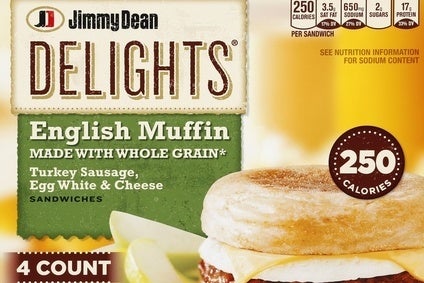 Hillshire Brands will review a US$6.4bn takeover bid from Pilgrim's Pride – although the company has talked up its own offer for a third US group, Pinnacle Foods.
US poultry processor Pilgrim's Pride announced its move for Jimmy Dean meats owner Hillshire yesterday (27 May). The $45-a-share offer from Pilgrim's came just a week after Hillshire tabled a $4.3bn bid for Pinnacle, the company behind brands like Wish-Bone salad dressings and Duncan Hines baking mixes.
In response, Hillshire insisted it stood by its swoop for Pinnacle but said it would look at the Pilgrim's offer.
"We continue to strongly believe in the strategic merits and value creation potential provided by the proposed transaction with Pinnacle Foods," Hillshire said.
However, it added: "Consistent with its fiduciary duties, and in consultation with its independent financial and legal advisors, Hillshire Brands' board will thoroughly review the Pilgrim's Pride proposal."
Pilgrim's, majority-owned by Brazil-based meat giant JBS, said yesterday its bid for the business would give more value to Hillshire's shareholders.
"A sale of [Hillshire] at the price … offers superior value and far greater certainty to Hillshire shareholders than the contemplated Pinnacle transaction," Pilgrim's CEO William Lovette wrote in a letter to Hillshire.