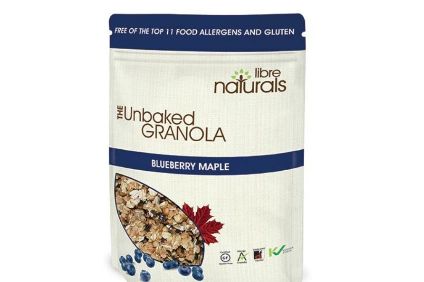 New York-based S CAP has made the debut investments from its Food & Beverage Fund, backing Canadian allergen-free snack company Libre Naturals and local smoothie maker Bright Greens.
Financial details have not been disclosed.
Libre Naturals' range includes granola bars, protein bars, unbaked granolas, and oatmeal cups. Its products are all free from the top ten allergens and gluten.
Founder Alana Elliot set up the business after becoming frustrated by her inability to find acceptable, tasty snack foods while managing her family's six life-threatening food allergies.
Libre Naturals focuses its marketing efforts on schools, universities, and families that have allergen-sensitive members.
Available on Amazon and select retailers in Canada and the US, Libre Naturals expects to expand its distribution across new retail channels over the next few months.
S CAP general partner Andrew Towle said: "Allergen sensitivity affects 8% of children – equating to 5.6m households – and 11% of adults, one-third of whom are allergic to more than one food type.
"In addition, self-diagnosed allergen sensitivity affects purchase decisions for food by as many as 15% of baby boomers, 21% of Gen Xers, and 28% of millennials. The growth in this segment is strong moving forward and Libre Naturals is in a great position to deliver the tasty, allergen-free snacks that consumers are demanding."
Rockville, Maryland-based Bright Greens creates blender-less smoothies. Its frozen smoothie cubes that can be made into a smoothie in just a few seconds by adding hot water in a shaker bottle.
Available at Whole Foods Market and other natural food stores, Bright Greens said it expects to expand distribution across multiple retail channels over the next few months. Kellogg invested in the business in 2017.
S CAP founder Kunal Sethi said the two companies are ideal candidates for the fund which is "designed to address an investment opportunity to bridge the pioneer gap at just the point where the potential for scaling a brand exists".
He said: "These two companies are ripe for expansion, and we're excited to partner with them to support that growth."