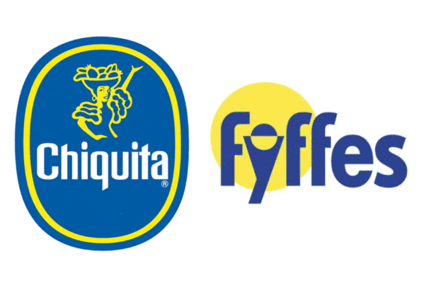 Chiquita Brands International and Fyffes have raised their forecasts for the synergies they expect their merger to create, with the US produce company the subject of a takeover bid from Brazilian firm Cutrale Group and Safra Group.
The banana firms, which announced plans to merge in March, said today (27 August) they are now targeting US$60m in annualised pre-tax cost savings by the end of 2016, up from previous guidance of $40m. The companies added 50% of these savings should be realised in the first year as the combined ChiquitaFyffes.
The $20m of additional recurring annual synergies are anticipated to come from European and Mediterranean shipping benefits as well as information technology efficiencies.
The proposed synergies would "positively impact ChiquitaFyffes financial profile" as the combined company would to generate "significant and increased free cash flow", Chiquita and Fyffes added.
"As a result of our diligent and thorough integration planning efforts, Chiquita and Fyffes have identified an additional $20m of synergies that will allow ChiquitaFyffes to deliver even more value for our shareholders and result in a combined company with stronger earnings power. Chiquita and Fyffes remain committed to the transaction and are continuing to work together to complete the combination as expeditiously as possible," Ed Lonergan, Chiquita's CEO, and David McCann, Fyffes executive chairman, said in a joint statement.
Fyffes and Chiquita must convince Chiquita shareholders of the merger ahead of a proxy vote at the US group's special meeting to approve the deal, scheduled for 17 September.
Brazilian juice maker Cutrale Group and investment firm Safra Group last week encouraged Chiquita shareholders to vote against the merger.
Cutrale and Safra have tabled a competing $13-per-share offer for Chiquita. The bidders have said their bid will give Chiquita investors "more compelling and certain value" than the merger with Fyffes. Chiquita has turned down the offer, calling it "inadequate".
Commenting on the takeover approach, Lonergan insisted the move was "opportunistic" and "does not provide compelling value as compared to the combination with Fyffes".
Lonergan added: "The offer is highly conditional and does not provide Chiquita shareholders full value for the ongoing turnaround and the synergies in a combination with Fyffes."
Cutrale and Safra have argued Chiquita and Fyffes are unlikely to deliver on synergy targets.
"Chiquita has consistently provided overly optimistic guidance that has resulted in its missing Wall Street quarterly consensus earnings estimates in each of the past four quarters," the Brazilian partners stressed in their proxy filing.
However, in a recent investor note, BB&T Capital Markets analyst Brett Hundley said that there is a "real, sizeable synergy opportunity between the two" to deliver cost savings.
The analyst continued: "We expect regulatory approvals from related parties," he wrote. "The sooner that regulatory hurdles are cleared, the more likely that value creation potential between Chiquita and Fyffes can be realised in 2015… earnings scenarios for Chiquita/Fyffes are of course, uncertain; however we have faith that current Fyffes CEO, David McCann, would cut costs significantly and clear shareholder return expectations."
Hundley argued the $13 a share bid from Cutrale and Safra undervalues the group and suggests a $15-plus bid is "more appropriate".
Separately this morning, Chiquita also announced a range of initiatives anticipated to reduce Chiquita's costs by approximately $14-16m. Efficiencies identified include lower per unit shipping costs. Chiquita said these savings will begin feeding through to the bottom line late in the fourth quarter of 2014 and will be fully implemented in 2015.
Meanwhile, Fyffes announced a rise in first-half profits and upped its full-year guidance. Fyffes is increasing its target adjusted EBITA for the full year 2014 to a range EUR38-42m (US$50-55.3m), up from prior guidance of EUR30-35m and fiscal 2013 EBITA of EUR32.7m.
Click here to view just-food's analysis of the Chiquita-Fyffes tie-up versus the Cutrale-Safra bid.