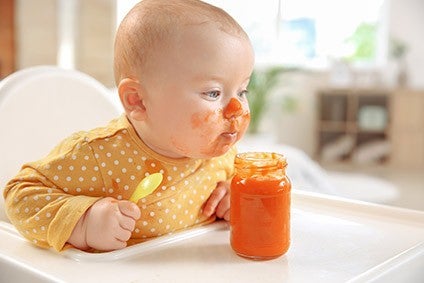 The US government has launched an "action plan" to cut the levels of "toxic elements" including arsenic and lead found in baby food.
Announced yesterday (8 April), the US Food and Drug Administration's Closer to Zero plan comes amid lawsuits filed against certain baby-food brands and the tabling of a bill in Congress to regulate on the presence of heavy metals in baby food.
The FDA said it would first "evaluate the scientific basis" for what it called "action levels", or recommended limits of toxic elements in foods "that can be achieved by industry and progressively lowered as appropriate".
Once that investigation is complete, the FDA plans to announce action levels and launch consultation on those proposed limits.
"During the plan's first year, we will be proposing action levels for lead in categories of foods consumed by babies and young children, consulting with and gathering data from stakeholders and federal partners on issues such as the feasibility of meeting action levels for lead, and sharing resources with industry on best practices for reducing or preventing lead contamination," the FDA said. "We will also complete updated sampling assignments testing toxic element levels in baby foods and evaluate the science related to arsenic exposure from foods beyond infant rice cereal."
Last month, a trio of US lawmakers introduced plans for maximum levels on the amounts of inorganic arsenic, lead, cadmium and mercury allowed to be present in baby food. If passed, manufacturers would have a year to comply. The bill would require those new levels to be lowered further within two years through guidance from the FDA and again after three years through regulation.
Raja Krishnamoorthi, one of the legislators behind the bill, said: "For too long, industry has been allowed to self-regulate baby-food safety, and the results have been appalling and extremely harmful to our kids. The Baby Food Safety Act will protect our little ones by setting strict limits on toxic heavy metals in baby foods."
In the FDA's announcement yesterday, the regulator said it would "take measures to ensure that limiting exposure to toxic elements in foods does not have unintended consequences", suggesting one result could be "limiting access to foods that have significant nutritional benefits by making them unavailable or unaffordable for many families, or unintentionally increasing the presence of one toxic element when foods are reformulated to reduce the presence of another".
The FDA added: "Our goal of moving closer to zero reflects the reality that fruits, vegetables, and grains do take up toxic elements in the environment as they grow. With a cycle of continual improvement and collaboration, we aim to push the levels of toxic elements in these foods closer and closer to zero over time."