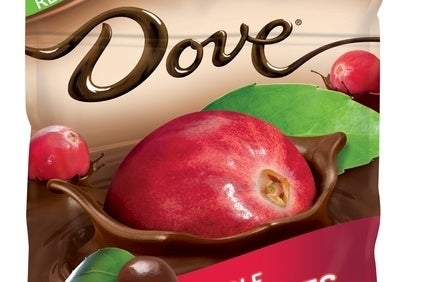 Mars Inc is to launch a range of fruit-filled DOVE chocolates in the US, a line industry watchers believe could be targeting consumers of Hershey's Brookside products.
The chocolates, which comes in three flavours, are set to hit US shelves in September, Mars said.
The company showcased the new Dove line at the Sweet & Snacks Expo in Chicago this week and indicated it was targeting consumers looking for healthier chocolates.
"Healthy snacking is a growing trend, and the perception of healthiness unlocks a variety of snacking consumption occasions. New Dove Whole Fruit Dipped In Dark Chocolate combines the health and wellness benefits of dark chocolate – the second-fastest-growing major segment in the chocolate confections category – with fruits, the fastest-growing snacking segment," Mars said.
The three SKUs – blueberries, cherries and cranberries – are targeting segments in growth, Mars said. The company, for example, pointed to IRI data that it said showed "chocolate-covered cherries drive the most sales in the chocolate category with sales of $70m and growing".
Analysts at Barclays Capital, who attended the Sweet & Snacks Expo, said the range had been prompted by the success Hershey has had with the Brookside brand since it bought the business in 2011.
"One of the most interesting new items that we saw at the show was a fruit-filled, dark chocolate product from Mars that carries the Dove banner, which would appear to us to be Mars' response to Hershey's success with the Brookside platform – though, admittedly, we believe the Dove formulation uses dried fruit, as opposed to fruit juice pectin for Brookside,, which does differentiate it slightly," Barclays Capital analyst Andrew Lazar wrote in a note to clients.
Lazar said he believed Mars had secured a listing for the range at Sam's Club and added: "We are not surprised that the success of Brookside has prompted new competitive entries into the space, and would also observe that more news and support could perhaps prove a positive for the emerging fruit-filled, dark chocolate sub-segment of the category, but we will nonetheless be watchful to see whether this product launch could temper the growth that Brookside has been experiencing."
For its part, Hershey is set to add its Brookside range in the US with the launch of a "crunchy clusters" line later this year.
"This line extension builds on the success of the Brookside brand, which was the fastest growing dark chocolate brand in 2013, and will build on this momentum through the combination of innovation, expanded distribution, and continued brand support," Hershey said this week.
Mars did not respond to a request for further comment.